A collaboration between four major US defence contractors has successfully demonstrated an airborne infrared sensor system using teams of crewed fighter jets paired with unmanned air vehicles (UAVs).
General Atomics Aeronautical Systems, the UAV manufacturer and one of the demonstration's contributors, said on 30 November that flight tests on 17 November involved aircraft performing "coordinated manoeuvres to sense relevant airborne targets in the infrared spectrum".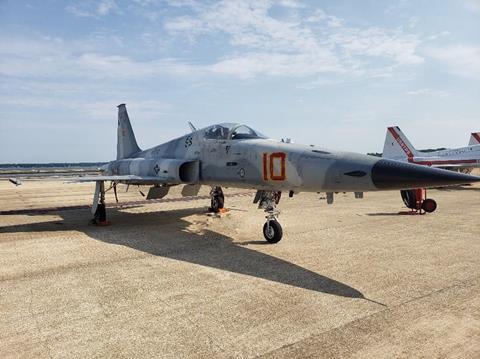 The sensor system being tested was Lockheed Martin's Tactical Infrared Search and Track (TacIRST), which provides air-to-air moving target tracking.
Lockheed describes TacIRST as a multifunction sensor system with a range of reconnaissance and threat-warning capabilities for crewed and uncrewed aircraft, which works in radar-denied environments.
Two Northrop F-5 Advanced Tiger (AT) jets from adversary air (ADAIR) training provider Tactical Air Support (TAS) represented the crewed aircraft for the recent TacISRT test, while a General Atomics MQ-20 Avenger served as the UAV component.
A North American Sabreliner business jet owned by Lockheed also participated, acting as a surrogate for other fighter aircraft.
General Dynamics was the fourth partner in the effort, providing its EMC2 Multi-Function Processor for computing support.
"Using this software-defined architecture, the flight demonstrated crewed and uncrewed teaming between the MQ-20s, Sabreliner and manned F-5 AT tactical fighters," General Atomics says.
All aircraft involved in the demonstration were equipped with Lockheed's TacISRT sensor suite. Matthew Merluzzi, senior programme manager at Lockheed, describes the event as a "major milestone".
"By leveraging open-mission systems, our team has demonstrated that common platform integration is possible across a variety of vehicles, bringing advanced capabilities to our war fighters quicker and more affordably," he says.
General Atomics' senior director of advanced programmes Michael Atwood says the tests have "broken new ground".
"It demonstrated effective collaboration between four established defence prime contractors flying with advanced sensing, crewed and uncrewed teaming, and advanced airborne high-performance computing to meet challenging air-dominance scenarios," he says.
To accomplish the multi-company integration, General Atomics says its MQ-20 team used a "US government-furnished autonomy engine and the government-standard Open Mission Systems messaging protocol to enable communication between the autonomy core and TacIRST".
TAS said in October it had become the first ADAIR service provider to test TacISRT, which the company describes as a "stealthy infrared sensor system designed to rival those of America's most-advanced adversaries".
"Unlike the podded solutions most often used to employ jamming and IRST in the air-to-air mission set, our TacIRST… are fully integrated into the Advanced Tigers' fuselage, open-mission-systems architecture and modern cockpit displays," says TAS chief executive RC Thompson, whose flight qualifications include the Boeing F/A-18 Super Hornet, Grumman F-14 Tomcat and command of a US Navy carrier air wing.
"In taking this innovative approach, we avoid significant aircraft performance penalties inherent in podded solutions and retain the F-5 AT's impressive performance envelope across the board," he adds.
TAS says it has ADAIR contracts with both the US Air Force and US Navy.