General Atomics Aeronautical Systems (GA-ASI) has partnered with India's Bharat Forge for the local production of aerostructures.
Under the arrangement, Bharat Forge will produce landing gear components, subassemblies, and assemblies for unmanned air vehicles (UAVs), says GA-ASI.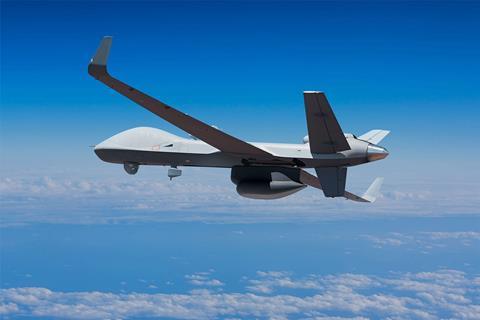 The US company notes that Bharat Forge has expertise in metallurgy as well as strong engineering and manufacturing credentials.
"GA-ASI is eagerly looking forward to working with Bharat Forge in the critical field of aerostructure manufacturing," says Vivek Lall, chief executive of General Atomics Global Corporation.
"Bharat Forge's expertise in the field of forging is known globally, and their outstanding contributions in the aerospace sector has inspired us to work together for building the next generation of the world's most advanced unmanned aerial vehicles."
The Bharat aerostructures deal follows GA-ASI's announcement in September 2022 that it had partnered with local artificial intelligence (AI) firm 114ai, with the goal of developing AI capabilities for military users.
GA-ASI's move to work with Bharat Forge and 114ai are likely related to discussions between Washington DC and New Delhi about the acquisition of MQ-9Bs for a tri-service intelligence, surveillance and reconnaissance (ISR) requirement.
Should a sale emerge from the requirement, Indian defence offset rules generally require 30% of the contract value to be ploughed back into India. In addition, prime minister Narendra Modi has championed a "Make in India" campaign to boost local manufacturing.
New Delhi already has experience with GA-ASI systems. In early December 2022, the airframer announced that a pair of MQ-9As on lease to India's navy had completed 10,000 flight hours over a two-year span.
Of India's leased MQ-9As, GA-ASI chief executive Linden Blue had this to say: "The Indian Armed Forces have been impressed by the MQ-9A's over-the-horizon ISR support for surface units and Indian warships, as well as the exceptional endurance and operational availability of the platform. Our MQ-9As have helped the Indian Navy to cover over 14 million square miles of operating area."