Boeing is in discussions with Australia about upgrading Royal Australian Air Force (RAAF) F/A-18F Super Hornets to the latest Block III standard.
"That's still in discussion with [the] RAAF about how we continue to support Super Hornet and at what point we incorporate Block III upgrades for Super Hornet, and Block II upgrades for the [EA-18G] Growler," says Dale McDowall, Boeing's director of business development for Australia and New Zealand.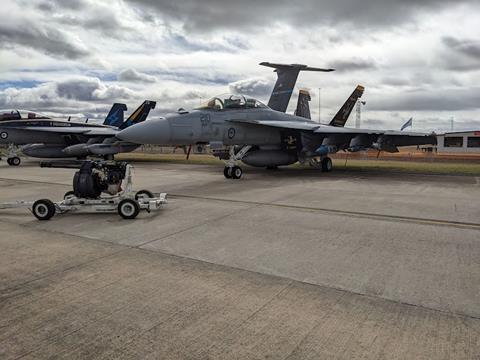 McDowall made the remarks during a briefing by Boeing executives at Australia's Avalon Airshow.
Canberra acquired 24 Super Hornets to fill a capability gap created by delays to the Lockheed Martin F-35A. The RAAF also operates 11 EA-18Gs.
Block III upgrades, which are being applied to the US Navy's Super Hornet fleet, significantly enhance the aircraft, particularly its ability to handle large amounts of data as part of a larger "kill web" that includes multiple other assets.
In response to a previous query from FlightGlobal, Australia's Department of Defence did not refer specifically to Block III, but said that it would "continue to undertake a spiral upgrade to our Super Hornet fleet through life of type".
In addition to improving the fighter's capabilities, another aspect of the programme is ensuring continued interoperability with US forces. Indeed, an underlying theme of the Boeing briefing at Avalon was the close ties between the USA and Australia.
Boeing executives noted the significant work that Canberra put into evolving the E-7A Wedgetail airborne early warning and control platform, a type that will be adopted by the US Air Force to replace the Boeing E-3 Sentry.
The executives also reiterated the extensive Australian work involved in the developmental MQ-28 Ghost Bat, developed jointly between Boeing and the RAAF.
While acknowledging that flight tests continue with the secretive type, they declined to discuss specifics.
FlightGlobal understands that the MQ-28 is also undergoing test flights in the USA.
Australian industry observers have said that secrecy around the MQ-28 programme has increased following US Air Force involvement.