The US Air Force (USAF) has approved a private fleet of Lockheed Martin F-16 Falcon fighter jets for use in training the service's pilots.
The single-engined jets are operated by Montreal-headquartered Top Aces, a private company founded by former Royal Canadian Air Force (RCAF) fighter pilots to provide adversary air (ADAIR) and training services to air forces globally.
Top Aces, whose US operation in based in Arizona, said on 16 August that the USAF granted military flight release to its fleet of Falcon fighters to support military training programmes.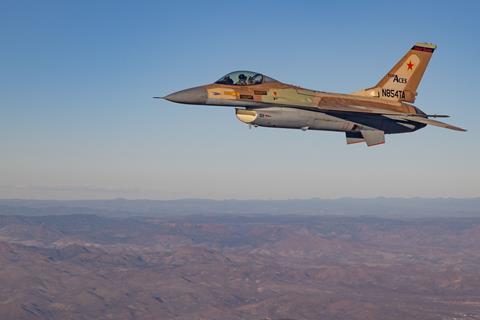 The jets are equipped with Top Ace's proprietary Advanced Aggressor Mission System (AAMS), which the company says allows older F-16 to replicate capabilities of more-advanced near-peer threats.
"By combining the power and avionics of the F-16 with AAMS, we can replicate contemporary adversary threats with accuracy and cost-efficiency" says Russ Quinn, president of Top Aces and a former USAF squadron pilot.
The first four F-16s in Top Aces' aggressor fleet, which it acquired from Israel, received civil certification from the Federal Aviation Administration in May 2021. The first test flight of an AAMS-equipped F-16 happened in January.
The company ultimately plans to acquire 29 F-16s from the Israeli Ministry of Defense.
Top Aces says its Advanced Aggressor Fighter variant of the F-16 carries Active Electronically Scanned Array (AESA) air-to-air radars, helmet-mounted cueing systems, infrared search-and-track capabilities, electronic attack pods, passive radio frequency detection technology and high-fidelity weapons simulation systems.
Top Aces previously won contracts to provide ADAIR training to the RCAF and has contracts with the German armed forces and USAF.
The USAF contract, awarded to Top Aces and several other firms in 2019, is worth $6.4 billion and runs through 2024.
In addition to F-16s, Top Aces operates the Dornier Alpha Jet and Douglas A-4 Skyhawk. The company says it has the largest fleet of privately-operated fighter aircraft in the world.
In March, Top Aces merged with Las Vegas-based Blue Air Training, which provides ground-attack-technique training.