The US Air Force (USAF) has completed what the service describes as the largest ever launch of Boeing C-17 Globemaster III transport jets from single location.
Air Mobility Command (AMC), the headquarters that oversees the USAF's transport fleet, said on 6 January it successfully completed a so-called "mission generation" exercise involving 24 of the Boeing cargo aircraft belonging to the 437th Airlift Wing.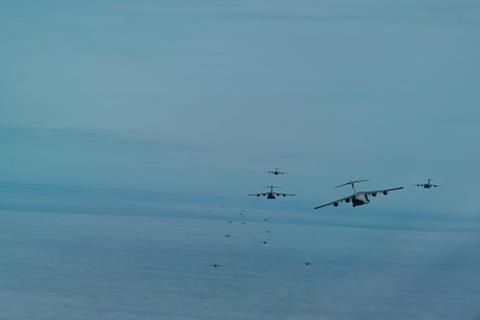 "This exercise marked the largest C-17 launch ever from a single base and demonstrated the wing's ability to rapidly generate and project overwhelming air power alongside joint partners," the AMC says.
The 24 aircraft launched on 5 January from Joint Base Charleston in South Carolina before dispersing across the southeastern USA to drop paratroopers, refuel Boeing AH-64 Apache attack helicopters on the ground and distribute heavy weapons and communication systems at multiple landing sites.
The transports were escorted by 16 Lockheed Martin F-16 fighters – separately opposed by 20 additional F-16s conducting adversary air flights.
USAF officials say the exercise was designed to simulate the rapid deployment of troops and materiel through contested airspace into a high-end conflict zone; a scenario expected to include disrupted communications, GPS jamming and the threat of enemy forces employing precision-guided munitions.
"This exercise tests our ability to accomplish the mission, while geographically dispersed and with limited communications," says the C-17 wing commander Colonel Robert Lankford.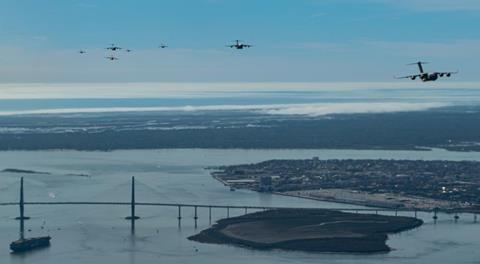 More than 60 aircraft were involved the drills, including Boeing KC-135 tankers and Boeing E-3 Sentry airborne warning and control aircraft, as well as the C-17s and F-16s.
USAF leadership has stressed in recent months that the service needs to rethink the way it does airborne logistics after decades of operating in uncontested environments. Much of the focus has shifted to so-called "distributed operations", such as the recent C-17 exercise, where aircraft disperse to multiple, smaller operating bases with flexible logistics and minimal infrastructure.
The USAF calls the concept Agile Combat Employment, and says a robust combat logistics capability will deter aggression from potential adversaries, including China.
"What we're practising are flexible deterrent and flexible response options," says C-17 pilot Major Zachary Barry, who was also the lead planner for the recent drills. "If we can move really quickly, it makes it harder for the adversary to respond."