AVIC appears to have signed a contract with the United Arab Emirates (UAE) for the Hongdu L-15 advanced jet trainer.
Social media posts from the Chinese state airframer indicate that a contract has been signed. AVIC is displaying a scale model of the type at the Abu Dhabi Defense Exhibition (IDEX) this week.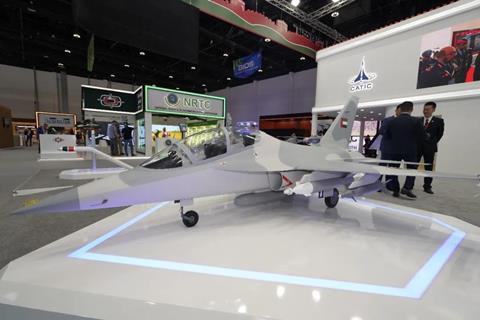 China's state-run Global Times publication has also reported on the sale. The UAE has yet to issue a statement about a contract signing.
The IDEX model depicts the aircraft in UAE livery with an air-to-air refuelling probe – a new feature for the L-15.
It is not clear if the UAE examples will serve primarily as trainers or as ground-attack aircraft – AVIC says the type is effective in both roles. The model on display features guided munitions on its wing hardpoints, wingtip-mounted PL-5 air-to-air missiles, as well as a targeting pod on its centreline station.
"With advanced aerodynamic layout, three-axis/four-degree redundant fly-by-wire control system, two full-authority digital electronically controlled turbofan engines, as well as aerial refuelling capabilities and on-board oxygen generation systems, the L-15 has excellent performance comparable to fighter jets," says AVIC.
In February 2022, the UAE's defence ministry announced an intention to obtain 12 L-15s, with an option for 36 more.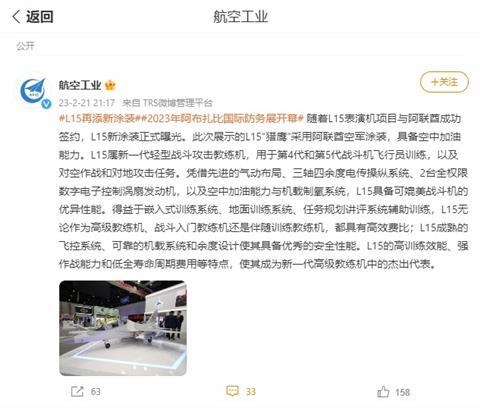 A UAE L-15 buy could put paid to any remaining chance of the Emirate obtaining the Lockheed Martin F-35A.
In early 2021, during his last days in the White House, former US President Donald Trump approved the sale of 50 F-35As and 18 General Atomics Aeronautical Systems MQ-9B Reaper unmanned air vehicles to the UAE.
In late 2021, reports emerged that Abu Dhabi was dropping discussions for the American fighter. The deal was apparently strained owing to US concerns about Abu Dhabi's willingness to also work with Moscow on new-generation fighters.
Washington is also concerned about Chinese inroads in the Middle East, particularly in the defence and telecommunications spheres.