The Royal Australian Air Force (RAAF) plans to acquire a new advanced jet trainer, with key manufacturers promoting potential candidates at the Avalon Airshow.
The decision about a new trainer will be made in 2026, with a contract to be signed in 2027, according to an RAAF official.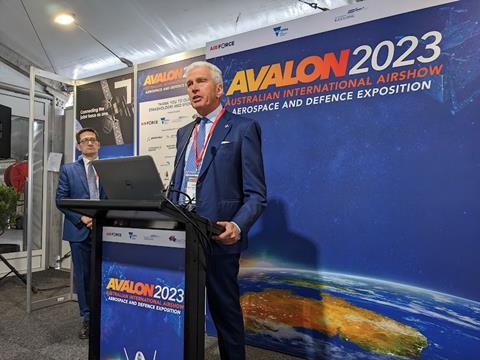 Thirty to 40 aircraft will be obtained. A light combat capability will be required, and the aircraft will need an electro-optical/infrared sensor, as well as datalinks. These capabilities are required because the type will also be called upon to perform the adversary "red air" mission.
Leonardo promoted its M-346-based training system in a presentation at the show.
Carmine Russo, head of sales, engineering and IFTS (International Flight Training School) marketing, says the M-346 is ideally suited to training pilots destined for fifth-generation aircraft such as the Lockheed Martin F-35 – a type operated by the RAAF.
He notes that six countries operate the M-346, in addition to the IFTS. The company has also sold six M-346s to an undisclosed air force for as light fighters.
Boeing promoted its developmental T-7, which will replace the venerable Northrop T-38 as the jet trainer for the US Air Force.
"The T-7 would fit right into the pilot training and aircraft sustainment our team currently provides for the Australian Defense Force," says Scott Carpendale, vice-president and managing director, Boeing Defense Australia.
"Because the US and Australia have a high degree of interoperability due to flying similar aircraft types, an Australian T-7 could lead to new joint training scenarios between the two countries."
Boeing also highlighted the T-7's open architecture and cockpit, which it says will facilitate upgrades for "decades to come".
Lockheed is also scheduled to provide a briefing on the Korea Aerospace Industries (KAI) T-50. Though the T-50 lost the USAF's T-38 replacement competition to the T-7, the type and KAI's FA-50 light combat variant are in service with several international air forces.
Lockheed, which helped KAI develop the type, has an agreement with the South Korean company for international marketing.
Cirium fleets data indicates that the RAAF operates 33 BAE Systems Hawk 127s in the training role. In February 2022, Canberra said it will upgrade the Hawk fleet with updated engines as well as other improvements.
The $1.5 billion, 10-year contract will extend the life of the type until 2032.