Aspiring fighter pilots in the Boeing T-7A advanced jet trainer could eventually face off against computer-generated enemy aircraft generated through augmented reality.
Such a system would allow computer-generated targets that are visible on the T-7A's virtual radar display to become visible to a pilot's eyes as they approach, according to Donn Yates, executive director, air force programmes at Boeing.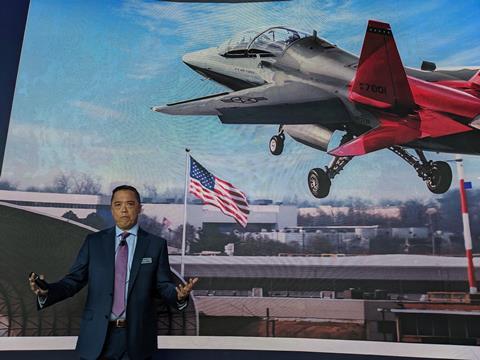 Yates, a former Boeing F-15 pilot, describes this as the BVR (beyond-visual-range) to WVR (within-visual-range) transition.
"I can take something that's out there on my radar scope, and as it translates all the way to inside of 15 miles, it now comes off my radar scope, and I see it visually."
Through their helmet, the pilot will be able to physically see – and fight against – the "threat representative aircraft."
"That's the next step," says Yates. "So exciting stuff over the next twelve months for augmented reality."
Yates, who made the remarks in a briefing at the Paris air show, adds that the T-7 cockpit's ability to mimic a range of sensors and weapons means that such systems don't necessarily need to be physically integrated with the aircraft.
"I can emulate any sensor, any technology, any capability and do it through software," says Yates.
"It's not the radar, but the ability to emulate that radar, because I'm not going to put a gigantic classified array on a T-7, but I want to emulate it."
The US Air Force (USAF) is expected to purchase 351 of the single-engined jets to train its fleet of future fighter and bomber pilots. The type has yet to be officially delivered to the US Air Force.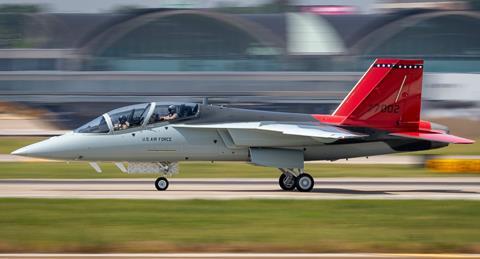 Meanwhile, Boeing on 20 June announced that it had completed taxi tests with its first engineering and manufacturing development-phase example of the T-7A at its St Louis site in Missouri.