The US Air Force Research Laboratory (AFRL) wants the public's help improving its process for planning large airlift operations.
The AFRL on 23 January launched its Airlift Challenge, an online competition that invites researchers globally to develop new artificial intelligence (AI) algorithms that can improve efficiencies and achieve on-time deliveries.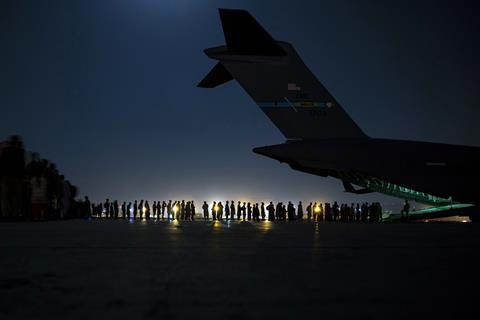 "There are many obstacles preventing timely delivery," notes the AFRL in its introduction to the Airlift Challenge. "Airports have limited capacity to process airplanes, thus limiting throughput and potentially creating bottlenecks. Weather disruptions can cause delays or force airplanes to re-route. Unexpected cargo may be staged for an urgent delivery."
The Airlift Challenge, which runs until 27 February, will be an entirely online event. The AFRL says participants can submit their AI applications for immediate scoring and see their rank on a real-time leader board.
The contest challenges participants to design applications – called "agents" – that are capable of making rapid adjustments in the face of various disruptions along delivery routes.
"The Airlift Challenge provides a simulation environment in which artificial intelligence agents can interact," says Andre Beckus, an AFRL machine-learning researcher. "Agents will be tested against a series of scenarios of ever-increasing complexity with evaluation ending when a time limit is reached or when the agent misses too many deliveries."
The AFRL notes that the primary objective for the applications should be helping the USAF reach airlift deadlines, with a secondary goal of minimising costs.
The USAF operates more than 600 cargo transports, according to Cirium data, including Lockheed Martin C-130 Hercules turboprops, Boeing C-17 Globemaster jets and Lockheed C-5 Galaxy heavy lifters.
Those aircraft provide airlift to US Transportation Command (TRANSCOM), the US military's global logistics organisation. The agency oversees routine deliveries, disaster-response missions and emergency operations such as the 2021 evacuation of Afghan civilians from Kabul's Hamid Karzai International airport.
According to a report from the Congressional Research Service (CRS), TRANSCOM conducts more than 1,900 air missions during an average week, including both passenger and cargo flights, using military and chartered commercial aircraft. The command operates in 75% of the world's countries, the CRS says.
At the same time, some of those USAF transports must provide support to regional combatant commands for training and combat operations. The USAF's Air Mobility Command recently completed the largest-ever launch of C-17s from a single point, rapidly deploying 24 of the jets.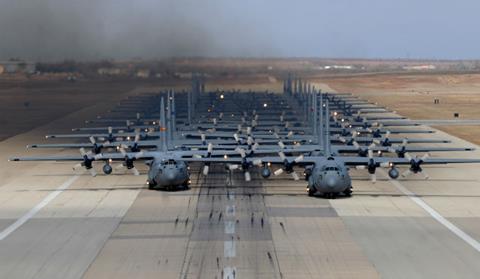 The sheer scale of the USAF's air cargo operation highlights the challenge of planning such missions. Southwest Airlines discovered that danger last December, when a holiday winter storm disrupted the planned flight schedule; a scenario the company's antiquated crew scheduling system was unable to remedy.
It took Southwest several days to unsnarl its operations, resulting in more than 16,700 cancelled flights.
"A large demand and tight deadlines make airlift operations difficult to plan even under ideal conditions," says Beckus. "Unexpected disruptions only further complicate the problem, potentially introducing major delays and stressing planning software to its limits."
AI-powered tools offer potential to help the USAF prevent and better respond to such disruptions. US mega retailer Walmart, which has thousands of physical locations and a massive online shopping operation across 24 countries, uses AI to predict demand for particular products and route deliveries.
The top three finishers in the Airlift Challenge will be invited to present their solutions to AFRL researchers and given the opportunity to publish a joint paper at the Commercial Sensing conference, scheduled for April in Orlando, Florida.