Australia wants to turn is Lockheed Martin C-130J tactical transports into platforms for long-range precision strike.
Canberra said in January it would purchase 20 US-made High Mobility Artillery Rocket Systems (HIMARS) from Lockheed. The deal is estimated to be worth $385 million to the defence manufacturer.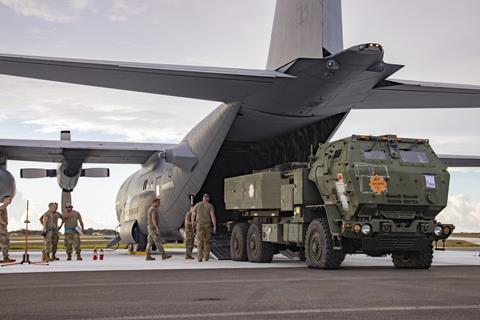 Speaking at the Avalon Airshow outside of Melbourne on 28 February, Lockheed says the ability of the truck-mounted HIMARS to fit inside a C-130 and quickly unload to launch a fire mission, before taking off again, was a major reason Australia selected the artillery system.
"It was one of their high priority requirements," says Wayne Harrison, a former artillery officer in the US Marine Corps (USMC), now with Lockheed's missile division.
Harrison says the technical term for this type of mission is a "fire raid", but the manoeuvre is informally known as "shoot and scoot".
"This system is all about expeditionary capability," he says, describing the concept as a generational leap in Australia's precision strike capability.
"Put [HIMARS] into a C-130, and then fly it deep to the flank, where maybe the enemy is not expecting it and firing a mission that surprises the enemy," is how he describes the fire raid concept.
During a shoot and scoot, a C-130 would land and unload the 5t HIMARS truck and three-person crew, with ammunition already loaded. While the aircraft taxis for take-off, the HIMARS crew would drive to the opposite end of the runway and launch a missile salvo at pre-determined target.
The truck and C-130 would then meet at the downwind end of the airstrip for loading and take-off into the wind. Harrison says the entire operation can be accomplished in under 10 minutes.
"We got it down to about six to eight minutes," he notes of his time in the USMC.
The USMC developed the technique around 2010, according to Harrison – thanks in part to its unique organisational structure. The service employs so-called air-ground task forces that combine fixed-wing air assets, such as C-130s, with ground combat forces, including HIMARS artillery, under a single commander.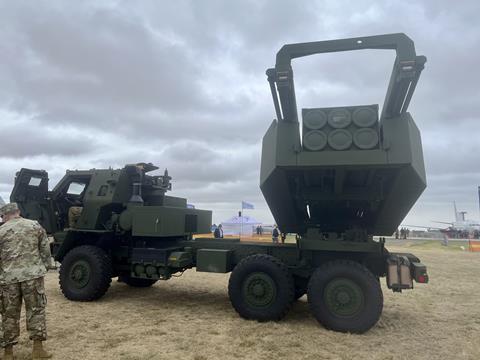 Harrison notes that the compact size of the HIMARS system and its ability to load into a C-130 is a massive advantage, because the Hercules turboprop is more flexible than larger jet transports.
"C-130s can land in many, many airstrips that other, bigger planes can't," he says.
Making use of HIMARS' 38nm (70km) striking range, Lockheed says the fire raid concept is meant to destroy high-value targets deep behind enemy lines.
"This is about pinpoint accuracy, time critical, high value targets," says Damien McMahon with Lockheed Martin Australia.
Lockheed will supply Canberra with an initial order of 20 HIMARS, with the first delivery in 2025. The company produces HIMARS at a facility in Camden, Arkansas.
The Royal Australian Air Force operates 12 C-130J transports, according to Cirium data, with an additional 24 airframes on order.