Boeing and artificial intelligence (AI) firm Shield AI have signed a memorandum of understanding to collaborate on autonomy and AI on future defence programmes.
The agreement will be managed by Boeing's advanced research and development arm, Phantom Works, say the two companies in a joint statement.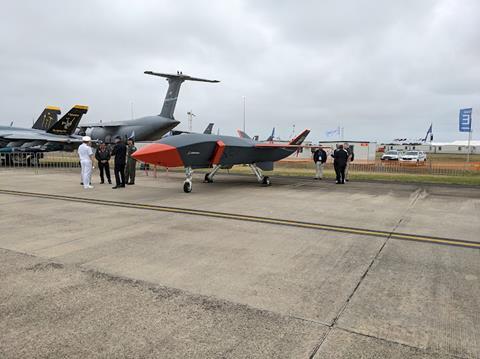 "Boeing continues to leverage talent from across the enterprise to make great strides in autonomous capabilities and programmes in recent years," says Steve Nordlund, vice-president and general manager for Boeing's Air Dominance organisation.
"Collaborating with Shield AI, the leader in AI pilots, will accelerate our ability to deliver these capabilities to the warfighter."
Shield AI claims that its Hivemind AI engine is the "World's Best AI Pilot". In addition to making decisions like a human pilot, even in the absence of Global Positioning System data, communications and waypoints, the AI engine allows unmanned aircraft to perform missions and operate together.
In a 2020 US Defense Advanced Research Projects Agency exercise involving a dogfight between a pair of virtual Lockheed Martin F-16s, the virtual fighter flown by an AI engine from Heron Systems categorically defeated one flown by a human pilot. In 2021, Shield AI acquired Heron.
"AI pilots are the most strategic deterrent technology since the introduction of stealth aircraft and have proven successful in flying air-combat scenarios" says Shield AI president Brandon Tseng.
"Integrating Boeing aircraft with our AI pilot would redefine what large aircraft, crewed or uncrewed, could do. As the world leader in aerospace technology, Boeing has been exceptionally easy to engage with, so we are excited to expand our scope of work to co-develop, productise and bring to market the world's best AI pilot for large aircraft."
The companies do not specify aircraft platforms on which they will work. One possible candidate is the MQ-28A Ghost Bat unmanned aircraft, developed by Boeing Australia and the Royal Australian Air Force.
The secretive type, which made its public debut at the recent Avalon Airshow near Melbourne, is also undergoing testing in the USA. As part of the MQ-28A's – formerly known as the Airpower Teaming System – development, Boeing conducted several exercises in Australia to demonstrate AI-enabled aircraft working together.
At the time of the 2021 Heron acquisition, Shield AI chief executive Ryan Tseng said that "operationalising Heron's work for programmes such as Next Generation Air Dominance (NGAD) must be a national security priority."
NGAD is the US Air Force's programme to develop a next-generation fighter.