The US Air Force (USAF) has officially launched its effort to procure a next-generation aerial refuelling platform.
The service on 31 January posted an official pre-solicitation Request for Information (RFI) on the US government's contracting website, outlining the scope of the programme known as Next Generation Air-refuelling System (NGAS), including the ability to survive in a contested environment.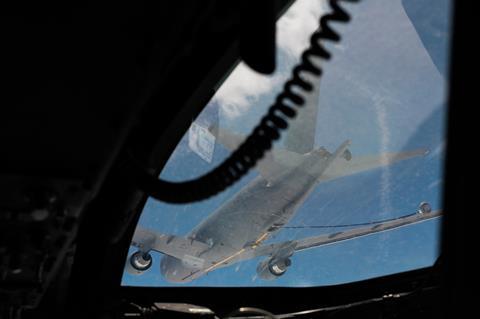 "The [USAF] is pursuing continued development of the next generation of tanker concepts that address the changing strategic environment," the service says. "The [USAF] has established the [NGAS] project to advance those efforts."
Formerly known as "KC-Z", NGAS represents the third platform in the USAF's three-increment plan to modernise its tanker fleet, with the first increment being the troubled Boeing KC-46, of which the service has contracted with Boeing for 128 examples.
The second increment, known as KC-Y or the "bridge tanker", is still undergoing programme development. Lockheed Martin's LMXT concept, based on the Airbus A330 Multi-Role Tanker Transport, is widely seen as the front-runner.
NGAS will follow KC-Y in the development pipeline, according to the RFI, with a projected initial operational capability date of 2040.
Air Force Secretary Frank Kendall in remarks on 16 January said the service is seeking to move its tanker fleet away from transport or commercial-based designs and toward platforms custom built for a high-threat environment.
"Traditionally, we could take a commercial grade of aircraft and turn it into a tanker or transport," Kendall noted. "They're not designed with a high set of requirements for survivability or resilience, and the threats are taking that freedom away from us."
The USAF provides few requirements for NGAS in the RFI. However, the service does specify the platform needs to "address employment in contested scenarios" – a euphemism for stealth or low-observability.
In this early stage of the programme, the USAF is levying few design restrictions on manufacturers, saying it is "interested in innovative solutions in all size and performance classes that might address the stressing mission requirements".
More formal design requirements will come in a subsequent Request for Proposal, should the NGAS programme move forward. However, the RFI does offer some hints as to what capabilities the USAF is seeking in the platform.
In their response to the prompt, manufacturers must describe threat avoidance features that will "reduce risks for both refueller and receiver in combat scenarios", in addition to improving upon the capabilities of the existing Boeing KC-135 and KC-46 tanker fleet.
Industry partners must also lay out how their design will refuel unmanned aerial systems, how their concept could operate as an air-to-air fuel receiver and how their proposed solution will integrate into air space management "for information sharing, networking, shared situational awareness".
One design type that will likely get some attention as NGAS develops is the blended wing body. Kendall describes the airframe style as "one of the very prominent candidates" for future aircraft designs.
"We are doing some early design work on that and possibly moving towards a prototype as a [Department of Defense] programme," he said on 16 January. "But there's more to come on that and it's a work in progress."
Blended wing body aircraft have the potential for a far smaller radar cross section than traditional transports and tankers, which should improve survivability against advanced threats such as China.
In October 2022, the USAF said it would test a blended-wing aircraft in 2027 that could ultimately serve as an aerial refueller or transport aircraft.
Additional reporting by Greg Waldron