Aerospace industry newcomer JetZero has won a contract to build a blended-wing-body (BWB) prototype aircraft for the US Air Force (USAF), with a goal of achieving first flight by 2027.
Senior officials from the USAF on 16 August disclosed their selection of the Long Beach, California-based start-up to develop the novel jet aircraft, which is seen as delivering up to 50% better fuel efficiency.
"There's real potential in this technology to help increase fuel efficiency significantly," says air force secretary Frank Kendall. "It's a streamlined design that differs significantly from traditional tube and wing design."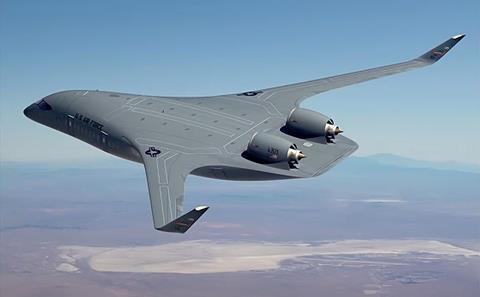 American space agency NASA, a programme partner, describes the BWB aircraft as a hybrid design sharing features of traditional designs and of ultra-efficient "flying wings", such as the Northrop Grumman B-2 stealth bomber.
NASA and Boeing flew an 8.5%-scale BWB demonstrator in 2007, known as the X-48B. Unlike that design, the JetZero aircraft will be a full-scale flying prototype.
The USAF believes the generational improvement in fuel efficiency, and associated advances in aircraft range, will deliver substantial performance improvements across the service's portfolio of missions, including cargo delivery and aerial refuelling.
"Greater range increases lethality," says Ravi Chaudhary, assistant air force secretary for energy, who will oversee the BWB development programme. "Fuel efficiency conserves our energy resources and allows us to generate more sorties."
The increased range is seen as particularly vital in the Indo-Pacific region, where aircrews must operate over a vast expanse of open ocean, often with only small, minimally developed islands for ground-based support.
USAF officials say the preliminary designation for the JetZero BWB jet will be "XBW-1", although that has not been finalised. The service will provide JetZero $235 million over the next four years to fund the project.
The USAF aims to fly the XBW-1 by 2027.
JetZero co-founder and chief executive Tom O'Leary says private investors will also contribute funds to the development project, although he declines to reveal whom or how much.
O'Leary comes to JetZero from the tech industry, previously working with big names including Tesla and eBay. His first foray into aerospace was with Vermont-based electric vertical take-off and landing developer Beta Technologies.
However, he notes JetZero co-founder and chief technology officer Mark Page worked on the original NASA-funded BWB research at now-defunct McDonnell Douglas and is credited as helping invent the design, along with Bob Liebeck and Blaine Rawdon.
At the 2023 Paris air show in June, Page told FlightGlobal that JetZero also hopes to market its BWB design to commercial operators. At the time, he said the company would need around $5 billion to bring the aircraft to market.
Notably, Page said the aimed-for increases in fuel efficiency can be achieved using existing engine technology.
O'Leary confirms JetZero's commercial aspirations, saying on 16 August that the company believes a BWB design would be well-suited for a mid-market jet carrying roughly 230-250 passengers.
"It's kind of an awkward space between single-aisles and twin-aisles, where the geometry of the tube breaks down from an efficiency standpoint," O'Leary says of conventional jet designs in the class.
"There isn't a great fit in the market today, where there is demand," he adds.
The JetZero Z4 BWB, which the company showcased at the Paris air show, will deliver a 50% fuel-burn reduction and weight savings over Boeing 767s and 787-8s, the company said.
While fuel savings and range improvements are a major selling point for the USAF, the service is thinking about those attributes as drivers of "increased lethality", rather than the end goal.
"It's not just a more fuel-efficient cargo or tanker aircraft," says Major General Albert Miller with Air Mobility Command (AMC), which oversees the USAF's fleet of transports and in-flight refuellers.
"We're going to have to have tankers flying in weapons engagement zones," Albert notes of potential conflicts with advanced adversaries like Russia and China.
To that end, the USAF is developing a portfolio of sixth-generation aircraft that can penetrate sophisticated air defence networks. The first of those, Northrop's B-21 stealth bomber, is nearing first flight.
The service's Next Generation Air-refuelling System (NGAS) programme aims to deliver a stealthy tanker aircraft that will work alongside B-21s, current fifth-generation stealth fighters and the secretive Next Generation Air Dominance fighter.
Kendall has set a goal of fielding the NGAS by the early 2030s – a substantially faster timeline from an earlier goal of 2040.
While a BWB design has been floated as a possibility for NGAS, Miller says it is "premature" to assume the XBW-1 – or any other BWB type – will be the ultimate choice for the stealth tanker.
"There's no presumption… that this is necessarily the answer for NGAS," he says.
However, he notes that the AMC is closely watching the XBW-1 effort and evaluating how its capabilities may support the NGAS objectives.
"We're very interested in this prototype being informative for us on what could be potential in the future," he says.