American military airframer Lockheed Martin has selected GE Aerospace to provide engines for a planned aerial refueller it hopes to sell to the US Air Force (USAF).
Lockheed announced on 6 June its LMXT strategic tanker will be powered by GE Aerospace's CF6-80E1 turbofan engines. The LMXT is based on the A330 multi-role tanker transport (MRTT) design, a derivative of the Airbus passenger jet.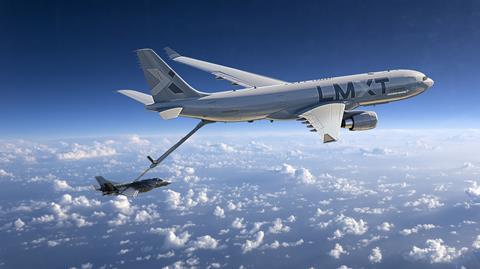 "GE's CF6 engine is selected for the LMXT due to its proven durability, reliability and performance," Lockheed said on 6 June.
Designed specifically for the A330, the CF6-80E1 variant offers strong technological advancements over previous CF6 engines, including nearly 70,000lb (311kN) of thrust and 15% greater fuel efficiency.
There are currently 56 A330 MRTTs in service around the world, according to Airbus, with an additional 12 on order. Operators have a choice of engine, with Australia and Saudi Arabia using the CF6 powerplant.
Other MRTT users, including France, Singapore, South Korea and the UK have their aircraft powered by the Rolls-Royce Trent 770-series engine. R-R says the Trent 700 powers 70% of A330 operations globally.
However, whether the USA will actually fly the LMXT remains an open question.
Lockheed is pitching the type to fill the so-called "bridge tanker" role envisioned by the USAF. Also known as the KC-Y, the still-unspecified platform would be a stepping stone between the Boeing KC-46 and the more survivable Next-Generation Air-refuelling System (NGAS).
While the service originally envisioned purchasing 75 KC-Y aircraft, for which LMXT is the frontrunner, USAF officials have more recently indicated they may scrap the programme entirely.
Fiscal year 2024 budget documents and official statements indicate the service will likely drop the KC-Y development plan, choosing instead to purchase more KC-46s and accelerate NGAS development.
"The information that industry has previously provided… may lead us towards KC-46 [as] the answer," Andrew Hunter, chief of acquisitions for the USAF, said at an Air and Space Forces Association conference in Colorado in March.
The decision could result in an additional 75 KC-46 orders for Boeing, rather than 75 LMXTs for Lockheed.
While the USAF is targeting the early 2030s for fielding NGAS, Lockheed is positioning LMXT as the answer to any potential delays that may arise in that new aircraft development process.
"[The USAF] have stated that they want to maintain uninterrupted tanker recapitalisation," says Larry Gallogly, head of business development for Lockheed's USAF air mobility programmes.
"Their aspirational goal is that NGAS be operational by 2035," he notes. "We believe that's a very, very aggressive target for a full developmental programme."
Gallogly says Lockheed will push for the USAF to hold a competition for a block of 75 KC-Y aircraft rather than awarding a sole-source contract to Boeing for additional KC-46 tankers.
"Competition drives value," he argues.
Gallogly says Lockheed expects the USAF to complete its final tanker acquisition strategy by the end of 2023, including whether the service will competitively award a contract for the "interim block" of aerial refuellers or purchase additional KC-46s.