Emirates will begin reactivating its Airbus A380 fleet in mid-July with the reintroduction of the superjumbo on flights to Europe.
The Dubai carrier said in a tweet on 23 June: "The iconic Emirates Airbus A380 will return to the skies with flights to London Heathrow and Paris starting from 15 July."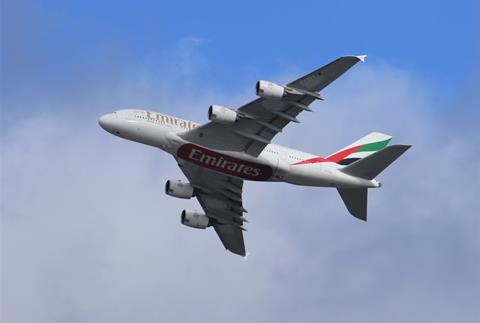 The airline's fleet of 115 A380s has been parked since late March in the wake of the coronavirus crisis. Emirates operates the aircraft in various seating configurations, one of which is the densest A380 layout in service at 615 seats.
The plan to reintroduce A380 services follows the announcement of new protocols which will enable Dubai to be open to business and leisure visitors from 7 July. These protocols for travel into and out of Dubai airports were announced under the directives of the vice president and prime minister of the United Arab Emirates and Ruler of Dubai, Sheikh Mohammed bin Rashid Al Maktoum.
Emirates Airline president Tim Clark gave the double-decker his backing in a webinar interview earlier this month, amid speculation that the A380 would be a major victim of the crisis. He said it "would be folly to exclude large widebodied aircraft in the future. The A380 has proven to be a hugely successful aircraft and if fuel prices were forever to stay at today's levels, this aircraft is hugely potent."