FlightGlobal took four awards in this year's industry accolades, held virtually following cancellation of Farnborough show
FlightGlobal writers Kate Sarsfield and Garrett Reim, together with veteran cutaways artist Tim Hall, were today named winners in the Aerospace Media Awards, while Flight International was best publication.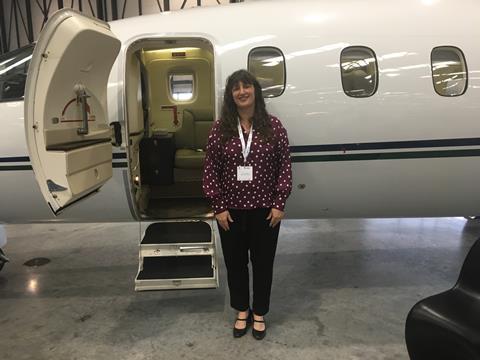 The annual awards, which recognise excellence in aerospace reporting, photography and publishing, and normally take place during the Farnborough and Paris air shows, were broadcast online during FIA Connect, with acceptance speeches delivered by video.
Sarsfield, who has written about business aviation for FlightGlobal since the 1990s, won for an article investigating the controversial area of illegal grey charters, written in the wake of the death of footballer Emiliano Sala in a light aircraft crash.
Los Angeles-based Garrett Reim, who joined FlightGlobal in 2018, was best young journalist.
Tim Hall, who has been producing highly-detailed technical drawings of aircraft for more than four decades, was given a lifetime achievement award for his services to aviation publishing.
Flight International is the oldest aviation publication – it first appeared in 1909, the year that Louis Bleriot flew across the English Channel. Chair of the judges Adam Konowe praised the magazine's broad-based coverage of the sector, while editor Craig Hoyle thanked regular readers who had remained loyal throughout "this challenging time for the industry".
FlightGlobal's Lewis Harper, Jon Hemmerdinger, Max Kingsley-Jones and Murdo Morrison, as well as Hoyle, Reim and Sarsfield, were all shortlisted in other categories, while Airline Business was also a finalist for best publication.