US manufacturer MD Helicopters is to be acquired by a creditor consortium led by investment firm Bardin Hill and MBIA Insurance, potentially ending a recent period of turmoil for the Mesa, Arizona firm.
But in order to "facilitate a quick and orderly sale", MD Helicopters has simultaneously filed for US Chapter 11 bankruptcy protection in order to restructure.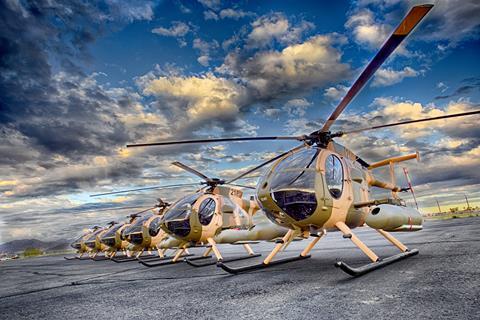 While the creditor consortium is so far the sole bidder, the Chapter 11 process means that its proposal could still be trumped by a higher offer, or ruled out due to a lack of bankruptcy court approval.
MD Helicopters says that the consortium is "led by long-time supporters and investors" in the company which "understand our storied history" and believe the airfrmer "is on an exciting growth trajectory, led by a strong management team, [with] state-of-the-art technology and an established brand".
As part of the proposed transaction, Bardin Hill and MB Global Partners have committed to provide around $60 million in debtor-in-possession financing – a means of funding the company through the Chapter 11 process.
"Upon court approval, this new financing, together with cash generated from MD's ongoing operations, is expected to support the business throughout the sale process," the manufacturer says.
"Since last year, we have been exploring a potential sale of the company that would enable us to move forward with new ownership to support MD's continued manufacturing operations and maintenance services long into the future, as well as deleverage our capital structure," says Alan Carr, sole director and chairman.
"After a thorough review of the options available to us, we believe this transaction and court-supervised process will help achieve our objective and create the best path forward for MD and all of our stakeholders."
The sale process stems from the 2018 bankruptcy of companies associated with former chief executive Lynn Tilton and her private equity firm Patriarch Partners, which previously owned MD Helicopters.
Tilton resigned from her position at MD Helicopters in March 2020 after a bankruptcy court ordered the sale of the business.
She was replaced by Carr the following month, who was tasked with turning the manufacturer around and preparing it for sale.