Turkish Aerospace has selected Ukraine's Motor Sich to supply 14 TV3-117 engines for its developmental ATAK II heavy attack helicopter, which is due to make a maiden flight in 2023.
An initial pair of the turboshafts will be handed over in September 2022 under an agreement between the two parties signed on 29 June; deliveries will run until 2025.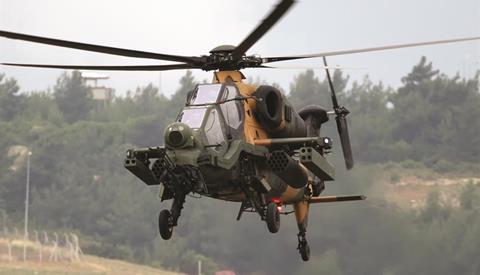 However, it is unclear whether the engines will power production examples of the 10t-class helicopter or simply support the development phase.
Turkish Aerospace is keen to use ITAR-free components in its future programmes after US restrictions hindered the sale of the current T129 ATAK to Pakistan. The present iteration of the attack helicopter is powered by twin 1,300shp (1,020kW)-rated CTS800-4A engines built by LHTEC – a joint venture between Honeywell and Rolls-Royce.
One solution could be the use of an indigenous powerplant for the ATAK II. Ankara has ambitions to grow its propulsion capabilities. For example, Turkish Engine Industries is already working on the 1,400shp-rated TS1400 for Turkish Aerospace's 6t-class T625 Gokbey utility helicopter.