Turkish Aerospace is on the hunt for potential customers and partners for its TF-X stealth fighter programme.
The company is at the Singapore Airshow, bringing along a full-scale mock-up of the aircraft. It is looking for collaborators and sees opportunities in Asian countries that are also interested in its basic and advanced trainers.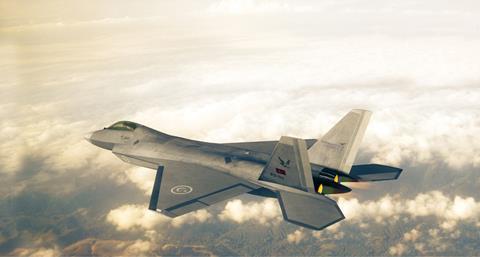 "Especially, the potential customers for our turboprop training aircraft Hurkus and jet trainer aircraft Hurjet are interested in procuring this aircraft," the company says. "For example, Hurjet is already competing for the Malaysian Light Fighter Jet and Advanced Trainer Aircraft tender."
Turkish Aerospace is "open to any potential collaboration".
"The earlier the involvement happens, the more the interested country may benefit from a partnership as they may have opportunities to participate in design and development activities apart from production opportunities as well," says the company.
The twin-engined TF-X is an indigenous effort by Turkey to build a stealth fighter. The market for fifth-generation aircraft is currently dominated by the Lockheed Martin F-35, but the likes of Turkish Aerospace's TF-X, Korea Aerospace Industries' KF-21 and Russia's Sukhoi Su-57 are looking for a way in.
The TF-X programme is scheduled to reach preliminary design review in 2022, with aircraft roll-out and engine run tests planned for March 2023. First flight is anticipated before the end of 2025.
Turkish Aerospace is primarily building the TF-X for the Turkish air force and plans to start deliveries in 2029. Depending on the TF-X's configuration, the manufacturer believes it can start exporting the stealth fighter in the 2030s.
The company is also looking for collaborators for its Hurjet advanced trainer and light combat aircraft. That single-engined, tandem seat aircraft is supersonic capable.
Turkish Aerospace says it is open to technology transfer agreements, as well as local part production, component assembly and final assembly line deals with potential customers of the Hurjet.