Italian authorities have charged six individuals for a conspiracy to transfer sensitive unmanned air vehicle (UAV) technology to China through the acquisition of a Pordenone-based aerospace firm.
The country's Guardia di Finanza alleges that three Italians and three Chinese nationals colluded to obtain the firm through a Hong Kong shell company, itself owned by a series of Chinese shell companies.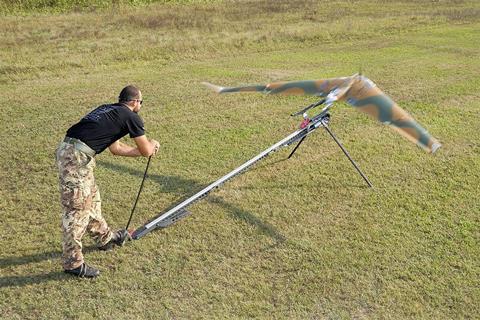 According to Italian authorities, the company's small UAVs are in use with the Italian army. The authorities' case indicates that in 2018 a newly-setup Hong Kong company obtained 75% of the shares in the Italian firm at a vastly inflated share price.
While the agency does not name the companies, it posted a video on YouTube with images of a military UAV and light aircraft produced by Alpi Aviation, which is based in Pordenone.
According to its web site, Alpi produces the Strix-DF, a rail-launched UAV optimised for surveillance and intelligence gathering in urban settings. It can be carried in a backpack and its maximum take-off weight is 10kg (22lb).The system also includes a ground station for mission planning, data acquisition, and telemetry.
In addition, Alpi makes ultralight aircraft and the Syton AH 130 light helicopter.
Italian authorities allege that the Italian defence ministry only learned of the acquisition two years after it took place, and then only at the request of authorities. The acquisition, it alleges, is in contravention of Italian rules pertaining to sensitive military technologies.
"It emerged, therefore, that the purchase of 75% of the Italian company had no speculative and/or investment purposes but, exclusively, the acquisition of its technological and production know-how, including military, for which projects for the transfer to the People's Republic of China, also planning a relocation of the company's production structure, to the technological hub of Wuxi, a city-laboratory of Chinese artificial intelligence located less than 150 kilometres from Shanghai," says the Guardia di Finanza.
It also alleges that a military-grade UAV was shipped to China for one year, apparently to make an appearance at a Shanghai trade fair. When the UAV was shipped, however, it was mis-labelled as a "radio-controlled aircraft model".
Chinese efforts to obtain sensitive defence technologies through acquisition or espionage are well known. The most famous example involved a failed effort by Chinese firm Skyrizon to acquire Ukrainian engine maker Motor Sich.