Airbus Helicopters and fellow European manufacturer Leonardo Helicopters have kicked off an EU-funded project to mature the technologies required for the next generation of military rotorcraft.
An initial meeting between the pair and its wider 19-strong team of industrial partners took place in late January as they begin work on the 42-month-long project.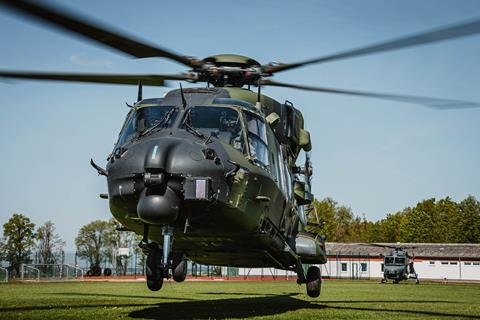 Under the EU Next Generation Rotorcraft Technologies (ENGRT) project the consortium will "focus on analysing and understanding the needs of European armed forces for rotorcraft operations beyond 2030."
Phase one studies will focus on operational concepts: "Testing different operational scenarios through battlefield simulation to better understand the future needs of European armed forces," says Airbus Helicopters, which is the official project co-ordinator.
A follow-on phase will study different architectures, propulsion systems and technologies such as connectivity to form "a clear idea of the viable options and key technologies" for EU operators in the 2040s.
The European Defence Fund (EDF) is providing a maximum of €40 million ($43 million) for the project.
"The project will include the analysis of future needs, key rotorcraft features and capabilities, alternative rotorcraft platforms, flight demonstrators and simulators. The project will also produce a military rotorcraft technology roadmap, strategies for modularity and manufacturing, lifecycle analysis and maintenance concepts," says the EDF.
Aside from Airbus and Leonardo, the consortium includes: propulsion providers GE Avio, ITP, MTU Aero, Safran Helicopter Engines and Rolls-Royce Deutschland; sensor and system specialists Elettronica, Indra, Hensoldt, Saab and Thales; aerostructures or component suppliers Aernnova, Fokker, Hellenic Aerospace Industries and Patria; research institutes such as ONERA in France, Germany's DLR, and CIRA and the Politecnico di Milano in Italy; plus missile maker MBDA Italia. In all, eight countries are represented in the grouping.
The ENGRT is a separate but complimentary effort to NATO's Next Generation Rotorcraft Capability (NGRC) programme which is currently in the concept phase.
The NGRC project is seeking to define – and potentially develop – a common medium-class helicopter for NATO nations in the 2040s. Five of the six countries leading that effort – France, Germany, Greece, Italy and the Netherlands – are also represented in the ENGRT consortium.

Dominic Perry is deputy editor of Flight International but also contributes extensively to flightglobal.com. Although specialising in the coverage of the helicopter industry, he has written on most topics in aerospace – be they commercial, defence or business aviation. In addition, there has been an increasing focus on the decarbonisation of the industry and zero-emission flight initiatives.
View full Profile