Cyril Champenois and two friends co-founded France-based Elixir Aircraft to plug a gap in the market for a family of clean-sheet piston-singles which crucially would be cheap to buy, maintain and operate
What sparked your interest in aviation?
I started to take an interest in aircraft when I was about eight years old, but it was seeing two BAC Concordes at Nantes airport during the 1990s that really ignited my curiosity in aviation.
How has your career progressed?
I have been working in the aerospace sector for 10 years, and it has been very rewarding in terms of learning. From my early days at Dassault Systemes as an engineer, to my role as co-founder and head of sales and marketing at Elixir – where I wear a number of hats, including product promotion, quality systems and product life-cycle management – it has been a very fulfilling experience.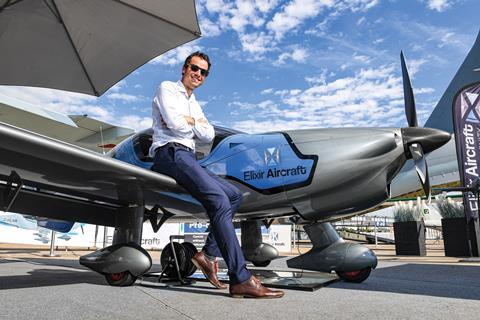 Why did you decide to design and develop a new light aircraft?
I discussed a possible light aircraft project with my friend Arthur Leopold-Leger when we were at university in London between 2007 and 2009. At that time, the certificated, light, piston-engined market was largely full of old and expensive models. In 2014, Arthur asked if I would be interested in creating a company to manufacture a new generation of light aircraft. The pilot-training market was ripe for a new design, and with a shortage of commercial airline pilots, there was also a very strong demand. So, Arthur, another friend Nicolas Mahuet and I took the decision to launch Elixir.
How does a start-up like Elixir stand out?
After 15 years working with aero clubs and flight schools, our team have a good understanding of what makes a good training aircraft. Our customers want a safe, cost-efficient and versatile model and the Elixir delivers on all of these requirements. Unlike traditional light aircraft, which are made up of thousands of parts, the main components of the Elixir are made from one piece without bonding, riveting or screwing. Our wing is one single part – no spars, no ribs, no stringers. So is the fuselage, the ailerons and the horizontal tail. Having fewer parts makes the Elixir more cost-efficient to maintain and safer to operate. A parachute and an anti-explosion bladder tank have been installed for added security. The Elixir costs up to €40 [$44] per hour to operate (fuel and maintenance), can carry a payload of 280kg [6,17lb] and is capable of providing the full range of training provision, including ab initio and commercial pilot's licence programmes.
What were the biggest hurdles in the Elixir's development?
Designing and certificating an aircraft is tough, but the biggest challenge is probably gaining the trust of customers and financiers. We now have 99 pre‑orders and will soon receive European Union Aviation Safety Agency certification for the €150,000 visual flight rules [VFR] model equipped with a 100hp [75kW] Rotax 912iS engine and Garmin G3X cockpit. We are proud to have earned the trust of many people. We will continue to work hard to justify their faith in us.
How is the programme progressing?
We are reaching serial production. With certification pending, we have hired five people to work on industrialisation of the product. A further 10 will join us in the coming months as we begin to deliver the first aircraft to customers.
What's next for the Elixir family?
Our plan is to develop different versions. Following certification of the first model, we will start work on a more powerful variant powered by a 140hp 915iS turbocharged engine. We hope to secure approval for this model within a year. We are also planning to offer an instrument flight rules variant, equipped with a G300 flightdeck. Development of this version will take two to three years. We also plan to validate the VFR version in the USA next year.
What advice would you give someone looking to become an aircraft manufacturer?
Focus on customer needs and be innovative, but realistic, about what you can achieve.