Edomgenet Sentayehu, chief financial officer at Ethiopian business aviation services provider Krimson Aviation, helps to sustain its activities in flight support, ground handling, charter brokerage and more
What is your educational background and how did it lead to a career in aviation?
I earned my first degree in business management from Ethiopia's Debre Markos University. Later I obtained an international certificate in project management from the American Academy of Project Management. I returned to education to earn my degree in accounting and finance from St Mary's University in Addis Ababa, where I recently earned an MBA too. The most wonderful thing as a student is learning every day. You develop new perspectives and absorb experiences and knowledge from instructors and friends. I took the same approach to my career, working as a financial expert in different industries including communication services, finance, media and merchandising. Each opportunity gave me new experiences, perspectives and lifelong friends. When the prospect to work in aviation arose, I felt it would be an invaluable experience.
Why did you get involved in aviation?
I challenge myself to be able to adapt to different situations, but never thought I would join this industry until the opportunity came up with Krimson Aviation. After completing an MBA I wanted a position that would both help me demonstrate my potential and broaden my experience. Krimson offered that.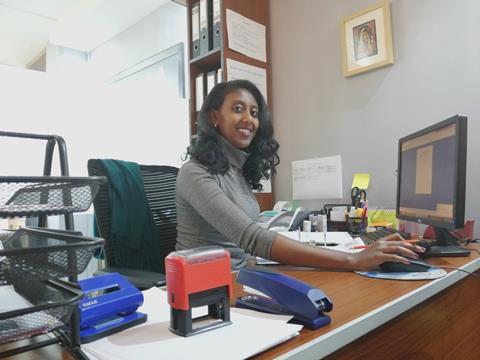 What does your working week look like?
It starts with a review of the previous week's activity. Looking back helps plan for the future and informs subsequent decisions. The business is growing rapidly, which requires close oversight of the company's financial status to ensure sustainability. Much of the week is spent discussing future strategies with Krimson's chief executive, Dawit Lemma, to implement processes that best serve a dynamic, international aviation business operating within the confines of African financial institutions. Diversity features too: one day we'll be organising a medical evacuation, the next we'll be handling an international head-of-state aircraft. I love the variety that my job brings.
What is the most challenging part of your work?
Financial concepts are applicable to all types of markets. Aviation is famous for its use of acronyms and specific vocabulary. Learning the various terms was like learning a new language, but I now consider myself fluent! Managing cash flow is also challenging, as we work in a variety of currencies and across a range of countries that all have different approaches to paying bills. It's a complex business, but I enjoy bringing all the parts together.
And the most rewarding?
As someone who enjoys finance, having fun with the numbers is always rewarding. Our small team and departments align their goals and work together, which ensures we are all focused on ensuring Krimson maintains its reputation for quality, reliability and service. It's great.
What have you learned since you started working in aviation?
To me, aviation formerly meant travelling and airports. But I've quickly learned that it is much more than that. In Africa, it's a growing sector with increasing demand that makes it an exciting space to be in. I've also learned about the detailed operational requirements and was amazed to see this is all available right here in Ethiopia.
What do you see in the future for business aviation in Africa?
I recently read a report detailing the contribution of the aviation industry to global economic growth, and how it has fuelled globalisation by bringing businesses and people together. Africa reflects these changes. There is still a sizeable portion of the market open to private investors who will increase international trade and investment. This brings welcome economic growth to the country and continent, which supports and is supported by business aviation