Sasha Pattinson has had a passion for aviation since childhood. She is now co-owner and director of Air Covers, a UK company specialising in designing and supplying bespoke protective covers for the aerospace and marine industry worldwide

How did you get into aviation?
Helicopters have always played a large part in my life. My earliest childhood memories are of flying in Aerospatiale Alouettes and Hughes 500s. As a very young girl, I would career around the hangar at weekends on an engineering wheelie board, disappearing under bellys of helis and ducking under their tails. My father managed several companies before founding HeliAir. He ran it with my mother Mary, and built it up to be the most successful Robinson dealership in the world. After 50 years in aviation they finally sold the company. My brother, Quentin Smith, founded HQ Aviation and has continued to push boundaries, flying twice around the world from North to South Pole. I met my husband, John, when my father and brother were training his aunt Jeffa Murray to fly her R44. Jeffa became the first woman to circumnavigate the globe and fly to both Poles. John worked for Lindstrand Technologies where he developed an inflatable habitat for the ISS. You could say we are total aviation people.
What do you most enjoy in your business life?
Working all day and all night with my husband! Joking aside, having been brought up in a family aviation business, it feels totally natural to work together – albeit sometimes a little stressful. I love it when our talented machinists receive glowing feedback from our customers all over the world. We enjoy seeing the photos pilot customers send us of their covers in fabulous locations, doing the job they were born to do. Winning The Queen's Award for Enterprise this April has, without doubt, given all of us huge satisfaction as it validates everything we have all worked so hard for. Another highlight is attending the HAI Heli Expo. We always organise a pre-show event pulling together fellow exhibitors, pilots and operators, which is great fun. Last year it was axe-throwing in Atlanta… this year fire-eating in Anaheim. New Orleans next year, who knows?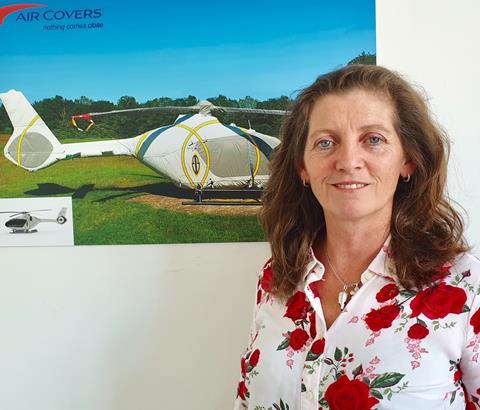 How did your business evolve and what are you focused on today?
John and I have spent the past 15 years building up Air Covers, and are lucky to have such an impressive team helping us. We started with one sewing machinist and paper patterns, but quickly evolved exploring new technology and technical fabrics. We now 3D scan every aircraft, which enables us to create the exact "skin" from which we design the best fitting covers. Working closely with engineers and OEMs we have developed covers that meet our exacting quality standards. The goal is to reduce aircraft maintenance and increase aircraft availability. In the early days it was necessary to re-educate prospective customers who believed that all covers were heavy, poorly fitting and difficult to put on, which is not true nowadays. Product innovation is what drives us. Every one of our 2,500-plus designs have been created from scratch. In this hiatus we are looking at new materials and manufacturing processes and asking clients how we can improve. My role within the business covers finance and HR, but as with any small business the owners have to be multi-skilled. I enjoy managing our team even through these very difficult times of coronavirus. Since the pandemic got serious we have been volunteering production and machinery to the NHS,operating with a reduced workforce. I am also using the time to rewrite our website and planning our marketing strategy. Now, more than ever, it's important to be connecting with our customers and suppliers.
How do you see technology and design evolving in the coming years?
Air Covers is always ahead of the curve in adopting new technology. We started laser scanning in 2009, and now have the entire western helicopter fleet 3D modelled – from the Hiller 12C to Leonardo AW609, Airbus Helicopters H160 and Bell 525. We are excited with new developments in textile coatings. The "cloak of invisibility" is not so very far away!
What is your advice to the new generation looking for a career in aviation?
Train to be an aircraft engineer. There is an ageing population of aircraft engineers, and when they retire we will need new talent. Ask any MRO. The pay is good. The apprenticeship route is popular as you can be paid as you learn, and career prospects are only limited by your imagination. It's the gift that keeps on giving.
Where do you see your business in five years' time?
Our main focus will remain on supporting the commercial and defence helicopter sector, and we will also look to strengthen our specialist design expertise. It is the reason we are list suppliers to Airbus and Leonardo. They partner with us on their new products and trust us to add value. We have an interest in the USA and have identified two potential partner manufacturing facilities. Alas, Covid-19 has put these plans on hold. We have a growing customer base in the States including the FBI hostage rescue team, but getting access to the Department of Defense means we have to be on the ground with the users. Our rotary success has enabled us to spin out covers for business jets, furniture on superyachts, thermal cameras, land vehicles and marine craft. We have a ruling principle of "can do" – we look for trouble and love designing the solution.
If you would like to feature in Working Week, or you know someone who would, email your pitch to kate.sarsfield@flightglobal.com