Northrop Grumman has rolled out the first MQ-4C Triton unmanned air vehicle (UAV) for the Royal Australian Air Force (RAAF).
The roll-out of the high-altitude, long-endurance (HALE) Triton took place at the company's Palmdale, California production site, Northrop says.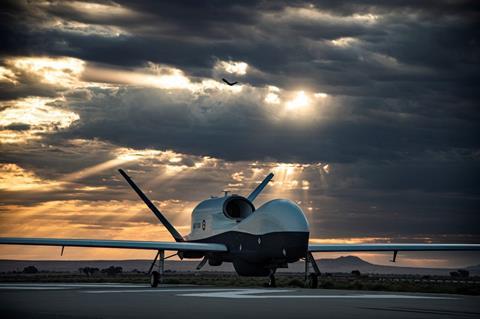 "Triton will provide the Royal Australian Air Force with an unprecedented capability to monitor and protect our maritime approaches," says RAAF chief Air Marshal Robert Chipman.
"Triton will work alongside the [Boeing] P-8A Poseidon and this unmanned aircraft system will allow us to cover significant areas, at longer ranges and has the ability to stay airborne longer than a traditional aircraft."
Northrop adds that Australia is a partner in the programme, and played an important role in shaping the requirements for Triton. The US and Australian defence forces will, in future, share data collected from their Triton fleets in the strategic Asia-Pacific region.
Northrop adds that its HALE family of UAVs, which includes the RQ-4 Global Hawk on which the Triton is based, can "perform critical wide-area intelligence, surveillance, reconnaissance and targeting missions."
This, it says, enables faster decision making. It foresees assets such as Triton linking together joint forces, and also adding greater autonomy and artificial intelligence capabilities.
Work on the RAAF's first Triton commenced in October 2020, with the wing-fuselage join taking place in December 2021. Production activities on the lead example will will be completed in 2023, with delivery to Australia set for 2024.
Canberra is receiving the Multi-Intelligence (Multi-Int) version of the Triton, the same version as the US Navy. The RAAF plans to obtain six, and possibly seven, MQ-4Cs.