The Northrop Grumman MQ-4C Triton unmanned air vehicle has received initial operating capability (IOC) from the US Navy (USN).
The milestone applies to the Multi-Intelligence configuration of the aircraft, according to Northrop.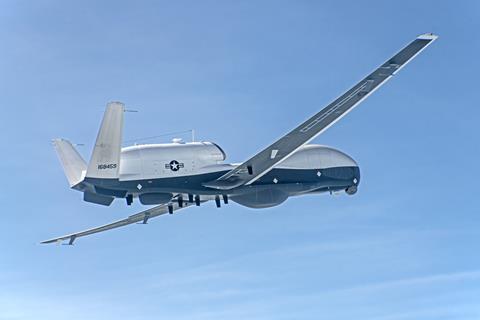 "Triton has proven to be invaluable for the maritime patrol and reconnaissance mission in the Indo-Pacific," says Rho Cauley Bruner, director of the Triton programme at Northrop.
"Now that the system has achieved initial operating capability, commanders will be able to fully leverage Triton's powerful sensor suite to detect and deter potential adversaries around the world."
Northrop has previously stated that the Multi-Int MQ-4C, which had its first flight in 2021, offers 360° coverage with its active electronically scanned array radar, full-motion electro-optical/infrared streaming, signals intelligence, and the bandwidth to transmit data to other assets and ground stations.
The company says that in a 24h mission a Triton can survey 4,000,000nm (7,408,000km).
The system is in service with the USN and will also be acquired by the Royal Australian Air Force (RAAF).
In March, Northrop announced that it will deliver Australia's first MQ-4C in the middle of 2024. The RAAF is reforming its 9 Sqn to operate the asset.
Australia could obtain six or seven Tritons.
"Persistent global maritime awareness is central to deterring, or competing and winning against, our adversaries," says Captain Josh Guerre of the USN.
"Triton ensures we're making informed decisions and effectively operating anywhere in the world."