The first Northrop Grumman MQ-4C Triton uncrewed aerial vehicle (UAV) destined for Australia has made its initial flight.
Northrop on 13 November said it has completed the inaugural sortie with Canberra's first Triton intelligence-collection aircraft at the company's aircraft integration centre in Palmdale, California.
That flight occurred on 9 November, according to Northrop, which called the event a major production milestone on the path toward delivering Australia's first Triton in 2024.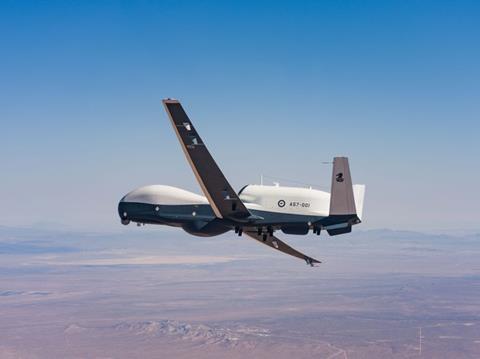 The operation included airworthiness evaluations, such as engine, flight control and fuel system checks, and basic aircraft handling tests were also conducted, Northrop says.
"We are leveraging our deep expertise in uncrewed high-altitude, long-endurance aircraft to enable Australia to establish a superior long-range maritime surveillance capability to monitor and protect Australia's maritime interests 24/7," says Christine Zeitz, chief executive Northrop Grumman Australia & New Zealand.
The American aerospace manufacturer describes the Triton as the world's only uncrewed, high-altitude, long-endurance aircraft designed for persistent maritime intelligence, surveillance, reconnaissance and targeting operations.
Canberra plans to acquire four examples of the MQ-4C, which is also operated by the US Navy (USN).
"Triton expands Australia's intelligence, surveillance and reconnaissance capability by providing reliable real-time intelligence and situational awareness," says Air Marshal Robert Chipman, chief of the Royal Australian Air Force.
The USN declared initial operating capability on its MQ-4C fleet in September. Tritons will complement the navy's fleet of Boeing P-8 Poseidon crewed maritime patrol jets, according to its Naval Air Systems Command (NAVAIR).
"Triton ensures we're making informed decisions and effectively operating anywhere in the world," says USN Captain Josh Guerre, a programme manager at NAVAIR.
As of September, Northrop had delivered five MQ-4Cs to the USN.
The company says using the same surveillance UAV platform will allow Washington and Canberra to seamlessly share data gathered by their Tritons.