Air Canada will suspend all USA-Canada flights on 27 April, slashing its 11 remaining US routes due to an extension of travel restrictions between the nations.
The Montreal-based airline, which already significantly curtailed what it calls "transborder" flights, plans to resume US-Canada service on 22 May.
However, the airline says that date could change due to "any further government restrictions".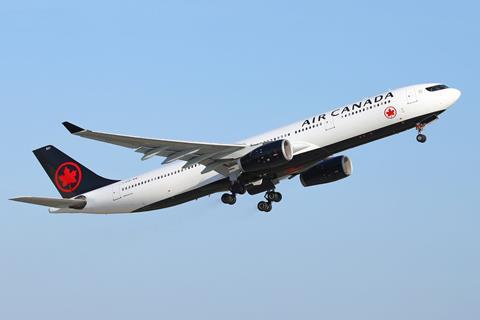 The USA and Canada on 21 March imposed a 30-day restriction on "non-essential travel" across their shared border. The countries on 20 April extended the restrictions for another 30 days.
Air Canada had already reduced its US-Canada network to only 11 routes, which it continued serving "primarily to facilitate the repatriation of Canadians" stuck in the USA. Those 11 routes included flights to airports serving US cities such as Boston, Chicago, Los Angeles, San Francisco, Seattle and Washington, DC, according to Cirium fleets data.
Air Canada says it has slashed its broader schedule more than 90% due to the coronavirus pandemic.