Air Canada's chief executive Calin Rovinescu has excoriated the government of Canada for maintaining coronavirus-prompted travel restrictions he says are hindering the air transport industry's ability to return to any semblance of normalcy.
Speaking at the company's annual shareholder meeting on 25 June, held virtually, Rovinescu questioned why the government of Canada is "continuing with these broad and indiscriminate measures" that are "disproportionate [and] out of step with other countries". The measures remain in place some four months into a crisis that grounded much of global air travel earlier this year.
"In imposing comprehensive, blanket quarantine and other travel restrictions, our government effectively deployed its emergency powers. And, at the time, broad-brush, immediate blanket prohibitions may well have been necessary, having been introduced at the peak of the crisis," Rovinescu says. "Now, more than 100 days later, aviation in our country is still largely closed and an enormous amount of people in Canada are severely impacted."
"Our government needs to act reasonably in discharging its broad powers. They do need to consider alternatives that achieve the public health objectives in a way that minimises damage to the economic and social well-being of Canadians and apply objective, evidence-based measures that carefully balance the many competing interests and other rights at play, especially as the curve has flattened," he adds.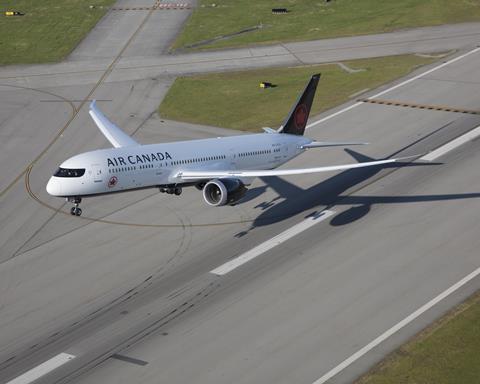 Rovinescu says the Montreal-based airline has taken "decisive measures" to mitigate the financial impact of the virus by introducing comprehensive cost cuts. It has been able to reduce cash burn to C$22 million ($16 million) per day. Load factors early in the pandemic fell to between 3-5%. In the meantime the carrier has laid off more than 50% of its pre-coronavirus 40,000-strong workforce and sent 79 jets into early retirement.
Air Canada was also the first to cancel some orders for the beleaguered Boeing 737 Max, which has been grounded since March 2019.
In past weeks, the airline was successful in raising more than C$5.5 billion to assist its liquidity issues, Rovinescu adds.
But now is time for both the federal and the provincial governments to lift blanket travel bans and quarantine requirements so that airlines and the tourism sector can get back to work, he says.
"There is growing unease that as we have flattened the curve in Canada and in other countries, increasingly these broad-brush blanket prohibitions and restrictions are less effectively combating Covid and more inhibiting our economic recovery," he says.
In March, Canada banned all non-nationals from entering the country, with few exceptions. All travellers entering Canada by land, sea or air, including citizens, are required to go into a mandatory 14-day quarantine. Those found violating the restrictions can be subject to a fine of C$750,000, six months in jail and expulsion from the country.
Even those travelling within the country and between provinces can be subject to requirements that may include self-isolations.
The longest peaceful border in the world, between Canada and the United States, has been effectively sealed since 21 March, and the restrictions, extended on 24 June, will continue through at least 21 July.
"Covid-19 has upended everything [and] painfully unwound a decade of profitable growth" for the airline, Rovinescu says.
The opening of air travel in a "smart and measured way" is important not only for leisure travel, but also because the sector is critical to the entire Canadian economy, Rovinescu says. He called on the government to use a "science-based approach", as other countries have. "We are now entering a new phase, one in which we must find a responsible way to co-exist with Covid-19 until there is a vaccine."
"We need to be permitted to prudently and cautiously do some business in the same way airlines in other countries are," he tells shareholders. "The federal and provincial governments, as a matter of urgency, need to find a thoughtful way to achieve the vital public health objectives in a way that allows for the prudent opening of aviation and lifting of restrictions to safely resume some level of travel."
The pandemic's effects also threaten to upend Air Canada's planned takeover of holiday specialist Transat AT.
The transaction, overwhelmingly approved by Transat's shareholders in August 2019, was due to close in the middle of 2020. However, it continues to be under scrutiny from various regulatory agencies, including the European Commission and Canada's competition watchdog. Unconfirmed reports in Canada's French-language media earlier this month claimed Air Canada was searching for a way to exit the deal due to liquidity issues.
On 24 June, Air Canada's Calgary-based competitor WestJet, the nation's second-largest airline, said it was eliminating more than 3,000 jobs by consolidating and outsourcing services such as call centres and airport operations as it seeks to reduce costs.