Canada's Air Transat and Porter Airlines have teamed up, reaching a code-share agreement beginning with flights this summer.
The carriers say on 8 March that Air Transat will carry Porter's code on 31 routes from Montreal, including those to Europe, the USA, Mexico and the Caribbean. Porter will carry Air Transat's code on flights between Montreal and Toronto's secondary airport, Billy Bishop, and Halifax.
The deal is Transat's second code-share tie-up, after announcing in November it will add Calgary-based WestJet's code to some transatlantic flights. Code shares are part of the leisure airline's long-term strategy of partnering with other carriers to extend its reach beyond existing destinations.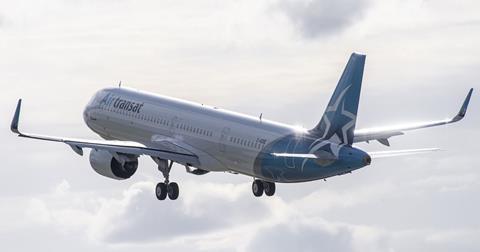 "We are very excited to team up with Porter in an important partnership that will contribute to the strengthening of our network and reinforce our leadership in our main markets," says Transat chief executive Annick Guerard.
Michael Deluce, chief executive of Porter, adds, "The introduction of seamless access to international markets, where Air Transat has made its mark, is an especially great benefit for our passengers. The overall combination of new routes and finding a partner that shares our dedication to delivering a great travel experience is a perfect fit."
Air Transat and Porter shut down operations during the global coronavirus pandemic, after the aviation industry saw a precipitous drop in demand due to lockdowns and other travel restrictions. Canada effectively closed its borders, making air travel to, from and within the country cumbersome and complicated.
For a time, it was unclear whether either carrier would survive the crisis.
Market heavyweight Air Canada had made an offer to take over Air Transat in 2019, but that transaction was scuppered by European regulators in 2021. The carrier completely shut down twice, in 2020 and 2021, amid government-mandated restrictions on leisure travel abroad.
Porter shuttered for more than 18 months – pushing back its restart date 11 times – before re-launching in September 2021.
Transat AT, Air Transat's parent company, will report fiscal first-quarter results later this week.