Transat AT, parent of Canadian leisure airline Air Transat, has secured an additional payroll loan worth up to C$150 million ($117 million) from the Canadian federal government.
The Montreal-based carrier will take the loan through the Large Employer Emergency Financing Facility (LEEFF) established in May 2020 to assist Canadian companies amid the Covid-19 pandemic.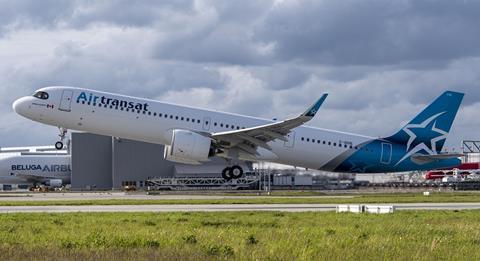 "Transat will receive up to $150 million to protect Canadian jobs and ensure operations can continue, despite the company's ongoing capital operating challenges as a result of the pandemic," the Canadian Enterprise Emergency Funding Corporation (CEEFC) said on 29 July.
CEEFC is the federal organisation responsible for administering the assistance loans.
"The amount consists of $100 million up front in LEEFF loans, and another $50 million loan contingent on Transat raising third-party funding (matched dollar for dollar up to $50 million)," the agency adds.
Transat shut down twice during the height of the coronavirus pandemic, for several months each time, after the government of Canada imposed travel restrictions. The government did not offer sector-specific aid to airlines but instead set up the LEEFF programme to assist the country's largest companies.
Additionally, Air Transat has reached an agreement to defer the repayment date of another loan by one year, until April 2024, the company says.
"This complementary financing and the changes to the existing agreements strengthen our treasury position and reinforce our financial resilience," says Transat chief executive Annick Guerard. "This important financing milestone, combined with sales that have been doing well in recent months, will give us the financial flexibility to deploy our strategic plan with optimism and confidence."
LEEFF recipients must "commit to protecting jobs and sustaining their domestic business activities and must demonstrate that funding under LEEFF forms part of their overall plan to return to financial stability", CEEFC says.
The loan terms dictate limits on executive compensation and prohibit payment of dividends.
"With the new loan announced today to Transat, our government continues to protect jobs in Quebec and across Canada, to ensure a strong recovery and competitiveness in the air sector, and to make sure that the rights of travellers are protected," says Canadian minister of transport Omar Alghabra.
Transat reports fiscal third-quarter results on 8 September.