Darwin will temporarily replace Perth as the stop-off on Qantas Airways' direct Australia-London services, the airline confirmed on 8 October.
"While this is a temporary change to the route, Qantas will watch how it performs and is open-minded about what it could lead to down the track," the Oneworld carrier states.
The Sydney-Darwin-London service is expected to begin on 14 November, Qantas says, while the Melbourne-Darwin-London route is scheduled to launch on 18 December, both operated by Boeing 787-9 aircraft.
Qantas says the arrangement – which was agreed with the Northern Territory government and Darwin airport – will remain in place until at least April 2022, "when London flights are scheduled to operate via Perth again".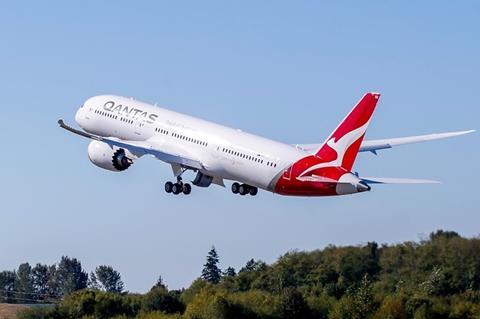 The temporary shift to Darwin had been mooted by Qantas in recent weeks as a result of differing border policies from Australia's state governments.
Leaders of Western Australia, of which Perth is the capital, have indicated they might keep borders closed into 2022, even if the population reaches the vaccination target set out by the national government in early October for international travel to resume.
That target is 80% of eligible people having been vaccinated in a state – a milestone some expect to reach in November.
Once that condition has been met, fully vaccinated citizens and residents will be allowed to travel in and out of the country, with a seven-day home quarantine required on return, rather than the 14-day hotel quarantine currently mandated, as part of a phased reopening of Australia.
The national government's move to reopen Australia's borders prompted Qantas to bring forward its resumption of international flights by a month, to mid-November.
Qantas launched its direct flights to London via Perth in 2018.