Airbus no longer expects to achieve its target of "around 700" commercial aircraft deliveries for 2022, citing the "complex" operating environment.
The European aircraft manufacturer gave the updated guidance after shipping 68 aircraft in November, taking its total for the year to 565 at the end of last month.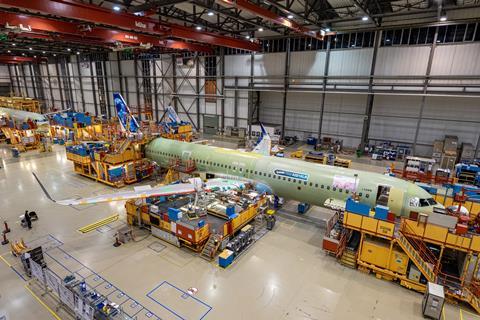 It says the final figure "is not expected to fall materially short" of the around 700 aircraft delivery target and that its financial guidance for the year remains unchanged.
However, the airframer adds: "Taking into account the fact that this complex environment will persist longer than previously expected, Airbus will be adjusting the speed of the A320 family ramp-up to rate 65 for 2023 and 2024. Airbus maintains the objective of reaching rate 75 by the middle of the decade."
Airbus will disclose its full-year commercial aircraft orders and deliveries on 10 January.
Alongside 68 aircraft deliveries in November, Airbus registered 29 new orders and 14 cancellations during the month.