World Defense Show in Riyadh next March will let exhibitors and visitors become part of the remarkable transformation vision for Saudi Arabia's defence sector and wider economy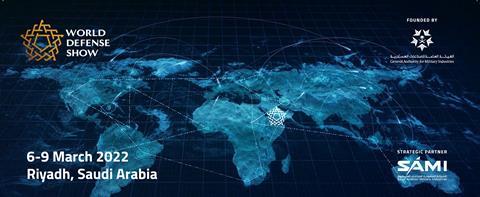 Every defence professional and industry executive has a busy schedule, and the reopening of international travel and the trade show circuit – while welcome after many months of lockdowns, restrictions and abandoned events – will only increase those demands.
However, although in its inaugural year, Saudi Arabia's World Defense Show from 6-9 March 2022 is already set to be an essential addition to the calendar.
This will be a biennial exhibition with a difference: the first of its kind to focus on all five domains of defence – land, air, sea, security and space – and with an emphasis on integration, interoperability and innovation. The inaugural event takes place in a purpose-built venue, with 800,000 sq m of dedicated outdoor space, just one hour from the Saudi Arabian capital Riyadh.
However, the show itself is just part of the appeal. Saudi Arabia represents one of the most exciting investment opportunities for global defence and technology companies, thanks to the Kingdom's aspirations for its home-grown industry. In fact, under its Vision 2030 initiative, Saudi Arabia plans to be spending half its sizeable military budget with local businesses by the end of the decade.
Those attending will be able to engage with the organisation behind the show, Saudi Arabia's General Authority of Military Industries. GAMI regulates, licenses and enables the country's defence ecosystem, and leads the drive to attract foreign investment that will help the Kingdom achieve its Vision 2030 objectives for defence, through schemes such as the Industrial Participation Programme.
While Saudi Arabia is one of the world's foremost military markets, the show is also a gateway to opportunities in the wider region, with Gulf Cooperation Council firms booking more than 40% of the exhibition space. Almost every GCC nation has a strategy to shift from being just a consumer of overseas-built equipment to developing indigenous industrial capabilities under global partnerships.
World Defense Show will debut under the patronage of the Custodian of the Two Holy Mosques, King Salman bin Abdulaziz Al Saud. His Excellency Ahmad Al-Ohali, Governor of GAMI, described the royal patronage as "an extension of the leadership's unwavering support to localizing 50% of military expenditure in line with the Kingdom's Vision 2030".
Those unfamiliar with Saudi Arabia might be surprised by aspects of a state that sits at a crossroads of three continents, at the heart of trade routes ancient and modern. A member of the G20, the nation boasts a young, highly-educated population of more than 30 million, and, as a forward-looking society, is keen to play a wider role in the global community.
While the Kingdom wants to create economic and employment opportunities for Saudis in high-tech sectors such as defence, those growth ambitions can only be achieved with inward investment, and that is why Saudi Arabia has introduced a series of measures to make it easier for international companies to do business there, including by liberalizing the private sector.
Saudi Arabia offers investors a favorable tax regime with free trade deals covering several sectors. Incentives and support schemes encourage economic diversity and competitiveness. Its efforts have been recognized by international institutions – the Kingdom was the biggest improver in the World Bank's "Doing Business 2020" report, and is now ranked 62nd most business-friendly country.
One feature of Saudi Arabia is how welcoming it is to overseas visitors, with its culture of hospitality embedded in customs and traditions. The Islamic religion and local heritage informs public etiquette, but these are underpinned by values that are universal: respect for others, decorum in public, and protection of privacy.
Recent social and legal reforms have made significant changes to Saudi society, and the country – already the destination for millions of Muslims performing the annual Hajj or pilgrimage to the holy city of Mecca – has been opening its doors to the wider tourism market, emphasizing its stunning landscapes, centuries of history, and high-end hospitality.
Saudi Arabia is changing, and next March will offer a chance to international participants to be part of its economic and strategic transformation. World Defense Show may be the newest addition to the convention programme, but those behind the event are convinced that it will become a must-attend for those with ambitions of doing business in the region .
With 85% of the exhibition space already allocated, those wishing to take part are urged to get in touch with the team to discuss their requirements as soon as possible.
World Defense Show will be held from 6-9 March 2022 in the presence of Saudi Arabia's key leadership, international delegations and prominent industry decision-makers from around the world. To learn more about the show, visit www.worlddefenseshow.com