Pakistan's government is hoping to restore airline links with Europe after signalling that it has resolved safety concerns with ICAO.
The country's flag-carrier, Pakistan International Airlines, had its European third-country operator approval rescinded in mid-2020, in the aftermath of a fatal accident involving a PIA Airbus A320, and the subsequent revelation that a high number of crew licences were obtained fraudulently.
PIA was informed by the European Union Aviation Safety Agency of concerns that Pakistani authorities were not capable, at the time, of certifying and safely overseeing the country's operators – pointing out that the A320 accident indicated "multiple layers" of safety defences were breached.
The flag-carrier had previously been blacklisted by the European Commission in 2007, although the restrictions on the airline were lifted eight months later.
EASA's most recent third-country operator update, from early December 2021, did not list PIA as an approved carrier.
But the Pakistan Civil Aviation Authority states that a "historic milestone" has been achieved by the country's regulators, with ICAO safety concerns resolved, according to its director Khaqan Murtaza and aviation minister Ghulam Khan.
European authorities have yet to confirm any lifting of restrictions against PIA.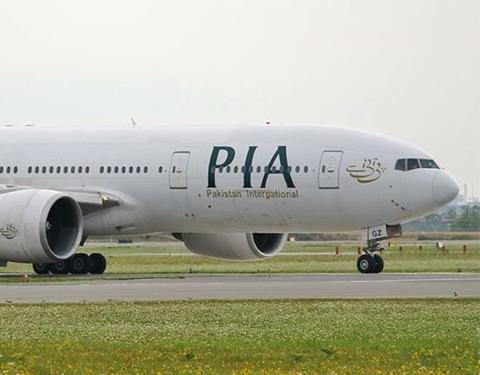 While PIA does not feature on the European Commission's blacklist – which was revised in November last year – documentation from the Commission accompanying the revision stated that PIA's approval suspension "persists" and that EASA considered that not all the conditions required to lift the suspension had been met.
The US FAA downgraded Pakistan in mid-July 2020 to a rating that meant the country's aviation safety oversight was non-compliant with ICAO standards.
ICAO itself published a significant safety concern in February last year regarding personnel licensing and training, specifically centred on the licensing process for flightcrew.
Technical meeting between EASA, the Commission, and the Pakistan Civil Aviation Authority – held in July and September 2020, as well as March and October 2021 – have sought to address the oversight of Pakistani-certified airlines and safety-management systems.
These consultations have involved sourcing evidence from Pakistani authorities to verify whether certification and licensing issues extend to other areas of responsibility, such as approval of cabin crew or maintenance staff.
According to the Commission, the Pakistan Civil Aviation Authority has provided information on measures to rectify concerns such as deficiencies in documented procedures, lack of guidance for inspectors, non-compliant air transport pilot licence processes, lack of root-cause analysis capability, and "little or no tracking" of corrective actions.
Ahead of an ICAO audit scheduled to begin at the end of November 2021, the Pakistani authority had also notified about an extensive review of manuals and procedures, changes to licensing processes, and internal compliance checks with a view to resolving the ICAO safety concerns.
While the Commission had still to assess the Pakistan Civil Aviation Authority's progress at the time of the blacklist revision, and was unable to make a "clear determination" over the long-term effectiveness, it acknowledged the efforts of the regulator to take corrective measures and indicated it would make an on-site assessment visit to Pakistan to aid its decisions.