Air Canada is temporarily laying off 5,100 cabin crew as the coronavirus hits its business, forcing it to ground aircraft and take significant capacity out of its network.
The Canadian Union of Public Employees (CUPE), the union representing carrier's flight attendants, confirms the layoffs.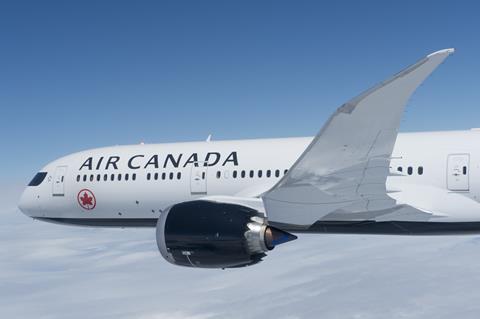 Without confirming staff cuts, Air Canada on 20 March says: "In light of the rapidly evolving COVID-19 global crisis and Air Canada's significantly reduced network, Air Canada has initiated discussions with its unions to begin placing employees on temporary, off-duty status."
"Employees would be returned to active duty status when we ramp up our network schedule as conditions allow. We do not have final numbers of total employees affected yet or details on timing as we are working through mitigation programs with each union," the airline says.
CUPE, which represents attendants at both Air Canada and subsidiary Rouge, is "deeply saddened to learn that the company will temporarily lay off approximately 3,600 of its members at Air Canada mainline, and all 1,549 of its members at Air Canada Rouge."
"The layoffs announced today are effective until April 30, 2020 at the earliest, but the union is hopeful that conditions in the industry improve and allow the airline to begin bringing flight attendants back on-board," the union writes. Employees will be able to access unemployment benefits while they are placed on "off-duty status".
The Montreal-based flag carrier said earlier this week it was gradually suspending most international flights by 31 March in response to the coronavirus pandemic while maintaining a few routes to help Canadian citizens repatriate and continue essential cargo deliveries. On Monday, the airline called on the Canadian government for financial aid to help manage through the crisis.
Like many of its peers, Air Canada withdrew its earnings guidance for 2020 and 2021.
US president Donald Trump and Canada's prime minister Justin Trudeau announced plans to temporarily close their national borders to non-essential travel on 18 March. As Canada's largest airline, the airline aims to work within travel restrictions issued by governments through April to continue operating a small number of international routes including across the US border from select Canadian cities.