Transat AT, owner of Canadian leisure carrier Air Transat, says increased load factors helped reduce losses in the company's fiscal fourth quarter, and that demand is set to rise as passenger confidence improves.
The Montreal-based company says on 9 December that its loss for the fourth quarter, which ended on 31 October, fell by half, to C$121 million ($95 million) from C$238 million during the same period one year ago.
For fiscal year 2021, the company lost C$390 million, compared to C$497 million in its FY2020.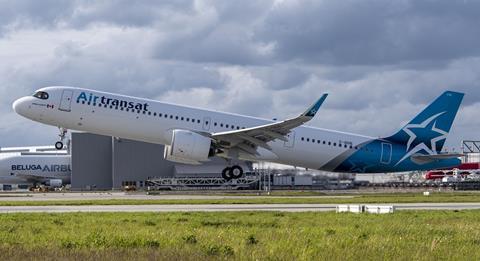 The company reported fourth-quarter revenue of C$63 million, more than double the C$28 million it earned in the fourth quarter of 2020.
Transat has reduced monthly cash burn to C$15 million.
"Since we resumed operations on July 30, business has been growing steadily," says chief executive Annick Guerard. "We met and exceeded our targets for resumption of operations in the last quarter, and reduced our use of cash. The winter season that is now beginning will see the continuation of our return to more-significant volumes."
"While we remain cautious given the evolving variants, we remain optimistic that we're on track to returning to normal," she adds.
The company says it is continuing its fleet transformation and pursuing an alliance strategy after regulators in Europe nixed a potential merger with Canada's heavyweight Air Canada in April.
Last month, Air Transat said it would launch a code-share agreement with Calgary-based competitor WestJet for transatlantic travel. Pending regulatory approval, Air Transat flights to some cities in Europe will carry WestJet's code, and some WestJet flights in North America will carry Transat's, from early 2022.
The collaboration is the "first of many" and will feed Air Transat's transatlantic flights, Guerard says.
Earlier this year, Guerard told FlightGlobal the airline was looking to maximise its reach by entering alliances after the Air Canada deal was called off. Air Transat is also adding routes and destinations in Europe and the USA to capture more market share.
"For the winter, we plan to operate from eight Canadian gateways to eight destinations in Europe, 22 in the south and five in the United States, including Miami and Fort Myers, where we'll be flying for the first time," Guerard says. Two more European routes – to Amsterdam and London from Quebec City – will be added in summer 2022.
Air Transat's average capacity in the winter season is slated to be about 60% of pre-pandemic levels, ramping to 90% for summer, Guerard adds.
"We are achieving this programme with eight fewer aircraft [than prior to the pandemic], and therefore are able to increase aircraft utilisation by 10%, as a first step," she says.
That said, Guerard says Air Transat will remain vigilant as reports of the new coronavirus variant "Omicron" brings new international travel disruptions.
The European Union and Canadian and US governments already placed restrictions on travellers returning from southern Africa, where the new variant was discovered at the end of November.
"Despite recent uncertainty related to the emergence of a new variant, the current situation shows encouraging signs," the company says, citing bookings and increasing vaccination rates. "It remains impossible for the moment to predict the impact of the Covid-19 pandemic on future bookings, and on financial results."
Transat will have 30 aircraft for the winter travel season, and by summer 2022 plans to acquire two more Airbus A321LRs, an aircraft Guerard has termed "a game changer". Transat will also divest its final Boeing 737, leaving it with 31 aircraft next summer, compared to 39 in summer 2019.
The company also announced changes to its board, taking effect at year-end. Jean-Yves Leblanc and Louis-Marie Beaulieu will leave the board and be replaced by Daniel Desjardins and Julie Tremblay.
Desjardins has been senior vice-president, general counsel and corporate secretary at Bombardier and was chair of the board of directors of Bombardier Transportation. Tremblay held leadership positions at TVA Group, Quebecor Media Group and Sun Media Corporation.