Air Canada logged another year of steep losses in 2021 though its overall financial position improved and the airline plans significant 2022 expansion.
The Montreal-based carrier anticipates its first-quarter 2022 capacity in available seat miles (ASMs) will be up 243% from the first-quarter of 2021 – gains reflecting Canada's easing of travel restrictions, the airline reports on 18 February.
As of 28 February, Canada will stop requiring vaccinated travellers arriving in the country to present a negative Covid-19 test.
But Air Canada faces a long road to recovery.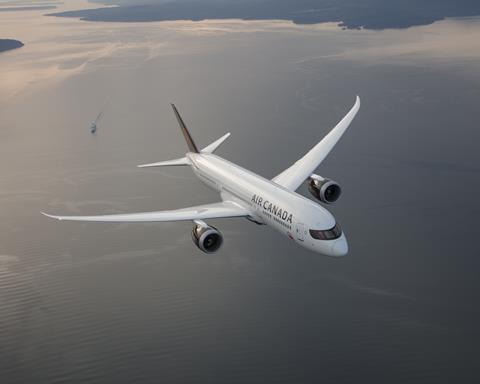 In 2021, the airline lost C$3.6 billion ($2.8 billion), an improvement from a C$4.6 billion loss in 2020.
But operating revenue remained significantly depressed, at C$6.4 billion in 2021. That is up 10% from 2020 but still only one-third the C$19.1 billion revenue Air Canada generated in pre-pandemic 2019.
Air Canada's 2021 capacity came in at 33.4 billion ASMs, down 11% year-on-year.
But its 2021 operating expenses dipped just 1.6% year-on-year, to C$9.4 billion. The airline reported C$17.5 billion in operating expenses in 2019.
Air Canada's 2021 revenue from domestic flights was only 39% of what it was in 2019, while revenue from international flying was 20% of the 2019 baseline.
Like other airlines, Air Canada benefited in 2021 from strong demand for air cargo. The carrier's revenue from cargo transport surged 63% year-on-year in 2021 to C$1.5 billion, a "record", Air Canada says.
In the fourth quarter of 2021, Air Canada lost C$493 million, compared to a C$1.2 billion loss in the same period of 2020.
Air Canada chief executive Michael Rousseau urges the Canadian government to get on with lifting more travel restrictions. The government maintains vaccine and testing requirements for people travelling by air within Canada and from Canada to other countries.
"More needs to be done," Rousseau says. "We are confident that border measures will continue to ease in the near future… There is no reason to single out travel."