Alaska Airlines and its regional airline affiliates Horizon Air and SkyWest Airlines have applied to the US Department of Transportation (DOT) for permission to codeshare with its Oneworld partner, Spain's Iberia.
In a DOT filing published on 31 August, the three US carriers say their application is for domestic US flights and some flights to Latin America, but could at a later date extend to more of the airlines' international routes.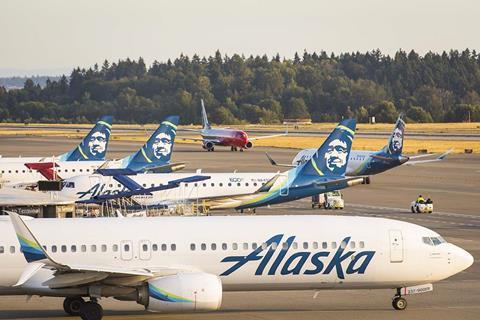 "The Joint Applicants' flights will initially connect Iberia's flights serving the United States with other points in the United States and points in Mexico and Costa Rica … but may later add other points on Alaska's domestic and international route network," the filing reads.
The airlines' application includes a list of 79 routes to west-coast gateways Los Angeles International airport and San Francisco International airport for which it is asking permission to add the codeshare.
"Grant of the joint applicants' application is in the public interest because it will benefit consumers by providing additional travel options between the EU, the US and third countries," the carriers write. "The codeshare services proposed in this application will also enhance the joint applicants' and Iberia's ability to compete in these markets."
Alaska joined the Oneworld airline alliance in March. The alliance is anchored by British Airways and Iberia in Europe, American Airlines in the USA, and Japan Air Lines and Qantas in the Asia-Pacific region.