Colombian carrier Avianca has become the first of three major Latin American airlines to complete court-overseen financial restructuring and emerge from Chapter 11 bankruptcy proceedings.
The Bogota-based carrier says on 1 December that it successfully reached agreements with its creditors, pulled in $1.7 billion in fresh capital and obtained approval for its reorganisation plan.
"This is an important day for Avianca and all of our stakeholders," says chief financial officer Rohit Philip. "We are pleased to be emerging successfully from this process [and] look forward to continuing to execute on our new business vision and capitalising on the recovery in travel demand."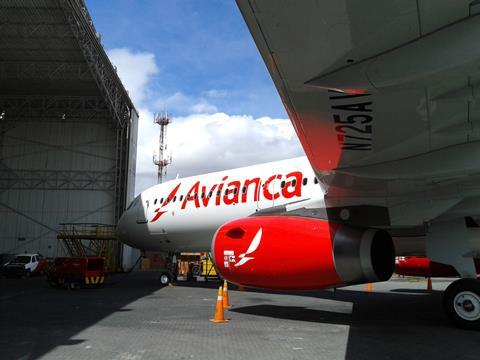 The bankruptcy court for the Southern District of New York approved Avianca's reorganisation plan on 2 November, which cleared the way for the airline to complete the required steps to emerge from the process.
The company had sought creditor protection in May 2020, just weeks after the novel coronavirus brought the global air transport industry to the brink of disaster.
The Colombian carrier was the first of three airlines in the region – the others being Santiago-headquartered LATAM Airlines Group and Mexico City-based Aeromexico – to seek protection in the Chapter 11 process.
"We look forward to the company's future success as we continue building upon Avianca's rich history across Latin America and internationally," says chief executive Adrian Neuhauser. "I am confident that we are well-positioned to be a highly competitive and successful carrier."
As part of the restructuring, the airline and its subsidiaries have been consolidated into Avianca Group International Limited, a new holding company domiciled in the United Kingdom. Avianca's former parent was domiciled in Panama.
The carrier says it expects to "nearly double its network" in the next three years, expanding to 200 routes. It plans to build a point-to-point network that will appeal to cost-sensitive travellers looking for direct flights and convenience. In October, Neuhauser told FlightGlobal the airline was operating about 100 routes, the "vast majority" of which already did not touch the Colombian capital.
The airline will have more than 130 aircraft by the end of 2025, and will invest more than $200 million redesigning its cabins, the company says.
Currently, the carrier has 101 aircraft, with 75 of those in service and 26 in storage, according to Cirium fleets data.
Avianca has committed to streamlining its widebody fleet to just one type: Boeing 787-8 Dreamliners. That means the airline's six Airbus A330-200s, four of which are operating, with the other two in storage, will be exiting the fleet. Avianca has six Rolls-Royce Trent 1000-powered 787-8s in service and seven in storage.
The company says its cargo division is a "strategic business" and has "great growth potential" under the new strategy. It also plans to invest in its online customer service and digital channels.
"While we are on the right path to recovery, we must remain cautious with the progress of the pandemic that has not yet ended and must stay focused on executing our new business plan," says Avianca chairman Roberto Kriete.
Aeromexico and LATAM are both awaiting US court approval of reorganisation plans they submitted in the past weeks.