Vietnam's Bamboo Airways has hinted at joining an airline alliance as part of plans for longer-term growth.
The plans were disclosed by airline chief Nguyen Manh Quan at the signing of a cooperation agreement with travel technology company Amadeus.
Nguyen says the wide-ranging Amadeus partnership – covering areas such as revenue management – is a "crucial breakthrough" in the airline's business strategy.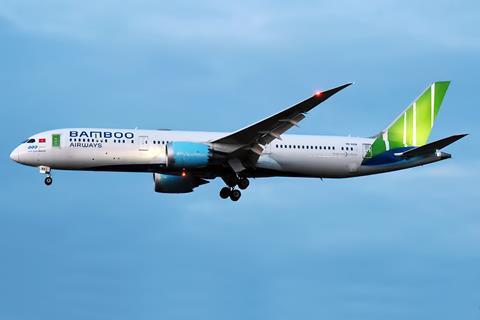 "[It is] thus creating a launch pad to thrive in international markets, join the world's major airline alliance down the line, and affirm our global status," he adds, without elaborating further.
Compatriot Vietnam Airlines is the only Vietnamese carrier to part of an airline alliance, having joined SkyTeam in 2010.
Bamboo does not have interlining or codesharing agreements with any airlines currently, though it has previously said it was in discussions with carriers such as Japan Airlines.
The airline took delivery of its sixth Airbus A321neo – also its 30th aircraft – on 8 October. The delivery means it is operating at the maximum fleet size approved by civil aviation regulators. It also has Boeing 787s and Embraer E-195s in its fleet.
Bamboo, which began operations in 2018, reiterates its goal of tripling its fleet by 2030, "if favorable conditions allow".
It adds that its immediate priority – with travel markets reopening – is to "develop long-haul nonstop international routes connecting major continental gateway airports". At the moment the airline operates about 170 flights a day across its network.