Vietnam carrier Bamboo Airways aims to sharply curtail its international operations, focusing on narrowbody aircraft and possibly exiting its long-haul network.
The airline says it that it aims "to chart a new, suitable course" in 2023-24 that will see it operate only narrowbody aircraft, and focus on Vietnam domestic routes between the top three Vietnamese cities of Hanoi, Ho Chi Minh City, and Da Nang. It will also offer services on Southeast routes.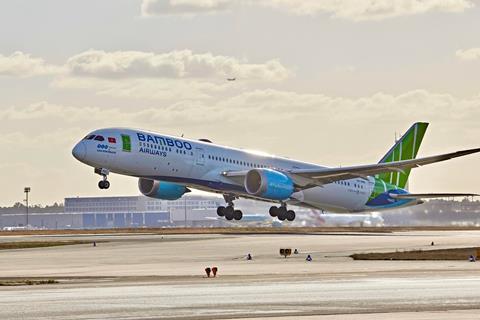 "For the route network, Bamboo Airways has improved commercial efficiency by reducing the frequency of a number of inefficient routes with low passenger demand while increasing operation on routes recording high demand," says the carrier.
"This has enabled the airline to optimally meet market capacity and enhance the overall performance of its network."
The carrier does not state the routes it will cut, but Cirium schedules data for November 2023 suggests that Bamboo is poised to eliminate services to London Gatwick, Melbourne, and Seoul. For the time being it seems that the airline will retain long-haul services from Ho Chi Minh City to Frankfurt and Sydney.
Bamboo's fleet will also undergo major changes, though it offers no concrete details. It suggests, however, that it may exit widebody aircraft.
"The carrier's fleet structure is expected to incorporate narrow-body aircraft and jets, which will be deployed on key domestic routes, strongly emphasizing trunk routes such as Hanoi, Ho Chi Minh City, and Da Nang," it says.
"Regarding the fleet, Bamboo Airways has been actively discussing and negotiating with partners to redesign the appropriate structure and size, prioritizing economy, uniformly standardizing aircraft configuration, reducing fuel consumption, and protecting the environment. Simultaneously, Bamboo Airways is taking steps to expand the potential lessor network, working closely with Boeing and Airbus to implement previously agreed upon aircraft purchase agreements. These efforts aim to prepare for the fleet increase from 2024 onwards proactively."
FlightGlobal has reached out to the airline for comment.
Cirium fleets data suggests that Bamboo has a fleet of 29 aircraft. It operates 22 Airbus A320ceo/neo family aircraft, two Boeing 787-9s, and five Embraer E190s. It has orders for 10 additional 787-9s.
Bamboo has had a tough 2023, characterised by significant high-level leadership changes and persistent concerns about its financial stability.
This year also saw local property group Him Lam take over as strategic investor. Japanese investors have also put money into the airline.
The Him Lam move apparently distanced the carrier from former controlling shareholder FLC Group, a property group that has faced significant legal challenges from the Vietnamese government. The company's then chairman Trinh Van Quyet was arrested in 2022 on allegations of stock manipulation, and FLC was delisted from the Ho Chi Minh City Stock Exchange in early 2023.
As recently as mid-2022, Bamboo aspired to operating 100 aircraft by 2028.