Vietnam prime minister Pham Minh Chinh has reportedly called on government ministries to provide support for Bamboo Airways.
Pham has asked the transport ministry to ensure the carrier's "operating conditions" and the finance ministry to help expedite the transfer of shares of new investors, according to a report in Vietnam's VN Express news outlet.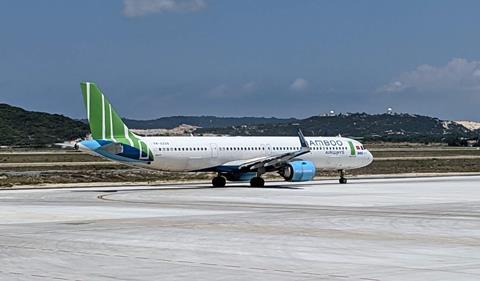 Pham also wants the country's Ministry of Planning and Investment to remove a cap on the carrier's fleet size, which would allow it to grow beyond 30 aircraft.
FlightGlobal has reached out to Bamboo Airways for comment.
The prime minister's remarks come in what appears to be a tumultuous time for Bamboo.
In July, four directors stepped down less than one month after being appointed at the company's annual general meeting on 22 June. One of these was Oshima Hideki, a former Japan Airlines executive, who served as Bamboo's chairman for less than one month.
The new chairman, Le Thai Sam, holds over 50% of the carrier's charter capital.
The board changes followed the resignation of former chief executive Nguyen Minh Hai after less than two months in the top role. He was succeeded by acting chief executive Nguyen Ngoc Trung.
This year has also seen local property group Him Lam takeover as strategic investor. Japanese investors have also put money into the airline.
The Him Lam move apparently distanced the carrier from former controlling shareholder FLC Group, a property group that has faced significant legal challenges from the Vietnamese government. The company's then chairman was arrested in 2022 on allegations of stock manipulation, and FLC was delisted from the Ho Chi Minh City Stock Exchange in early 2023.