British Airways staff represented by the Unite union have "overwhelmingly" called for strike action over the airline's plans for job losses and changes to employment terms.
At a gathering of over 1000 BA staff held near London Heathrow on 20 August, workers urged the Unite union to launch legal and industrial action against the airline.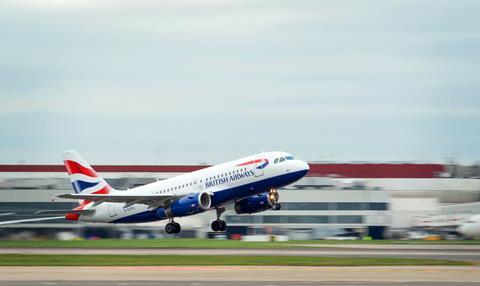 BA is making several thousand staff redundant and seeking to change the pay and conditions of other employees in response to the coronavirus crisis.
The union argues that BA crews, ground staff and other workers face losing their jobs and up to 43% of their salaries. It also claims that some workers set to retain their positions could be placed on zero-hour-type contracts "that give them no stability or security".
"British Airways is reaping what it has sowed. It's systematic, brutal and needless attacks on its workforce will see it inevitably faced with strikes in the autumn along with the persistent threat of disruption through widespread legal action," says Unite assistant general secretary Howard Beckett. "This workforce was absolutely clear today; this fight will go all the way and it will last until BA stops behaving like an abusive Victorian mill owner."
BA refutes that it uses zero-hour contracts and says it has received no notification of any ballot for industrial action.
It highlights that it has reached an agreement in principal on restructuring with the Unite and GMB unions for its engineering and customer-facing Heathrow ground staff, as well as with the pilot's union BALPA.
The airline says the gathering appears to relate to 'below the wing' employees who work in airside roles in the ramp area and baggage handling.
"We have to adapt to survive, so we will continue with the proper, lawful consultative process and we will keep inviting union representatives to discuss our proposals to the serious challenges we face. It is not too late to find solutions – as we have done with BALPA – and to protect jobs," BA comments.
The carrier is currently operating less than a fifth of its regular flying schedule and is burning through more than £20 million ($26mn) per day.