German leisure carrier Condor is looking at options for its future ownership as talks continue with LOT's parent Polish Aviation Group (PGL) on conditions attached to it withdrawing from its proposed acquisition of the airline.
In January, the two parties disclosed that PGL would become Condor's sole shareholder and repay a €380 million ($418 million) bridging loan facilitated by the German federal government and state of Hesse. That six-month loan was granted after the collapse of the airline's former parent, Thomas Cook, in September 2019, to support Condor through the winter season.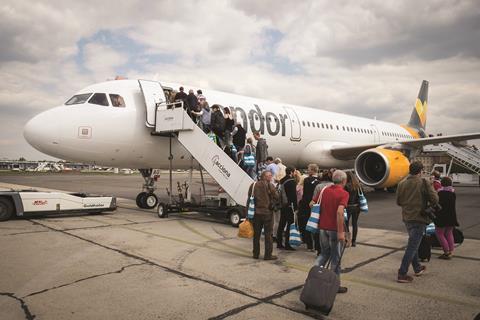 Condor creditors had on 12 March voted in favour of the "protective shield" plan under which PGL was to acquire the airline.
The deal was struck before the coronavirus pandemic brought the European airline passenger market to a virtual standstill. While no specific reason has been cited for dropping the purchase, a spokesperson for PGL says it has informed Condor about its withdrawal from the acquisition.
A Condor spokesperson confirms that PGL has informed it that it wishes to withdraw from the purchase.
"We are currently in discussions with PGL to define possible conditions for a withdrawal," the spokesperson says. "We are also examining how we will assert our claims under the signed purchase agreements.
"Condor is prepared for this scenario and intends to leave the protective shielding proceedings soon," the spokesperson adds. "There are various options for the future ownership structure, such as a trustee structure. We are also in talks about state aid because of the effects of the coronavirus crisis."
Condor says its flight operations – given the circumstances which have halted the bulk of passenger flights in Europe – will continue as normal. "At present, we are concentrating, in particular, on cargo and harvest aid flights in order to contribute to Germany's basic medical and goods supply," the spokesperson says.