The highest court in China's Hainan province has approved applications from creditors to place 10 affiliates of Hainan Airlines Holding in bankruptcy reorganisation, including six airlines, a 10 February filing to the Shanghai Stock Exchange shows.
The airlines are Grand China Air, Air Changan, Lucky Air, Fuzhou Airlines, Urumqi Air and GX Airlines.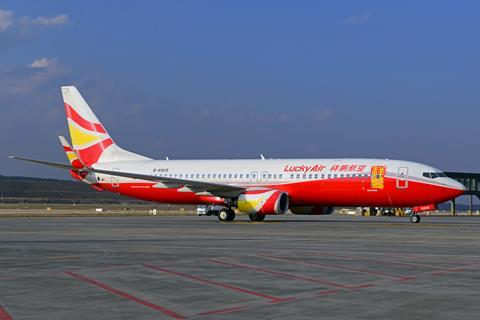 Cirium fleets data shows the rulings put 96 leased aircraft at risk as the outcome of the bankruptcy reorganisation is uncertain, although a leasing source who recently spoke to HNA affiliates told Cirium on 9 February that the airlines sought to give assurance that operating lessors' interests would be protected.
"Nothing was discussed in their rescue plan about operating lessors, so as operating lessors we were curious what they have planned for us. They told us they would ensure the operating lessors' interest would be protected 'to the best extent possible', but how to interpret 'to the best extent possible'? That's kind of vague, you know?" the person said.
"I don't know that haircuts can be totally avoided because they just said [they would] protect our rights as much as possible, but I don't know what this means [in practice]. Maybe they don't know either."
The High People's Court of Hainan Province ruled to accept creditor Fulaite International Freight Agency's application for the reorganisation of Grand China Air, which operates a fleet of only three Boeing 737-800s, all managed by Hainan Airlines.
All five of the other airlines mentioned in Wednesday's filing, however, have significant numbers of leased aircraft in their fleets.
The Hainan court also ruled to accept creditor Hebei Zhiyuan General Aviation's application for the reorganisation of Air Changan.
Hebei Zhiyuan General Aviation is a China Aviation Administration of China (CAAC) approved general aviation company that provides services including flight training, as well as industrial, agricultural and forestry operations, according to a company profile on its website.
Air Changan has a fleet of 11 737-800s, Cirium fleets data shows. All of these aircraft are leased, from seven different lessors.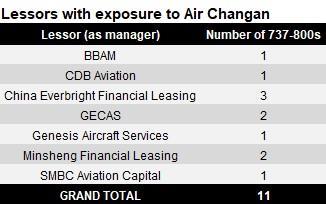 The same court in Hainan also ruled to accept creditor Kunming Aviation Safety Training's application for the reorganisation of Kunming-based Lucky Air.
Kunming Aviation has three flight simulators for 737-family aircraft and McDonnell Douglas MD-90 aircraft, according to a company profile on its website. It also offers cabin crew training.
Lucky Air has a fleet of 54 aircraft, with 44 on lease from 18 lessors, including 737 Max 8s, 737-700s, 737-800s, A319s, A320s, A320neos and A330-300s, Cirium fleets data shows. Nine of the remaining aircraft are managed by Hainan Airlines, and Lucky Air manages an additional aircraft by itself.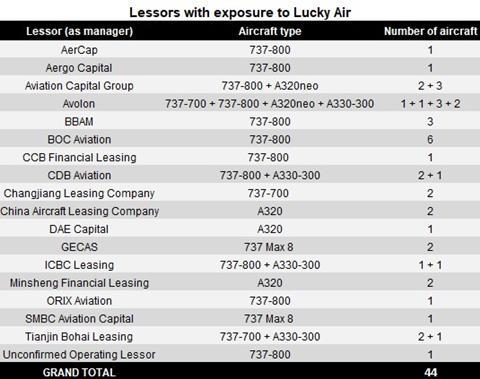 The Hainan High People's Court also ruled to accept Shenyang Tianda Aviation Technology's application for the reorganisation of Fuzhou Airlines.
Shenyang Tianda is a CAAC-approved civil aviation component manufacturer and supplier to domestic airlines, according to a corporate profile on its website. In that same profile, it lists Hainan Airlines as one of its customers.
Fuzhou Airlines has a fleet of 16 aircraft, with 14 managed by third-party lessors and two by Hainan Airlines.
The court also ruled to accept a Xinjiang province-based creditor's application for the reorganisation of Urumqi Air. A literal translation of that creditor's Chinese name is "Xinjiang China Railway Youth Travel Service". The company is involved in the domestic tourism business.
Urumqi Air operates a fleet of 16 aircraft, 13 of which are leased. Except for one Embraer E190 that it manages itself, the rest of its fleet are 737-800s.

One lessor with exposure to Urumqi Air told Cirium on 10 February that so far the airline had not communicated anything to him about how it might be affected by HNA's bankruptcy proceedings, adding that the carrier has been paying lease rentals. It is not clear whether the airline is current with any other lessors.
Finally, the court ruled to accept the application of tourism company Hainan Huanyou Holiday International Travel Agency for the reorganisation of Guanxi Beibu Gulf Airlines, also known as GX Airlines.
GX Airlines has a fleet of 27 aircraft, of which 14 are leased. Eleven are managed by Hainan Airlines and two by Hong Kong Airlines, another HNA-affiliated airline and based in the Chinese special administrative region of Hong Kong.

Besides these six airlines, the court also ruled in favour of creditors in relation to the requested reorganisation of four other Hainan Airlines Holding subsidiaries. These include a defunct airline called Shanxi Airlines, which Cirium data lists as having been merged. The airline was a domestic carrier based in Shanxi's provincial capital of Taiyuan, and Hainan Airlines acquired the airline in 2002 by buying a 97% stake. Shanxi Airlines ceased to have its own AOC in 2008 and was rebranded Hainan Airlines.
The 10 February Shanghai Stock Exchange filing also details the court's approval to reorganise three non-airline subsidiaries of Hainan Airlines Holding. These are Beijing Kehang Investment, whose creditor Hainan Defei Trading applied for its reorganisation; HNA Aviation Technology, whose creditor Shengyang Tianda Aviation Technology, which also brought the claim against Fuzhou Airlines, applied for its reorganisation; and Hainan Fushun Investment and Development, whose creditor Ping An Bank (Haikou Branch) applied for its reorganisation.
Nearly 40 lessors have exposure to airlines affiliated with HNA Group and, since the group announced its bankruptcy reorganisation in a 29 January WeChat post, have been queueing up for calls with the airlines to which they have exposure, Cirium understands. One lessor who was trying to speak with his HNA lessee said his call was pushed back to the following day due to high call volumes from other lessors wanting to speak to the same carrier.
People who have managed to have their calls with HNA Group carriers tell Cirium the airlines have been trying to convey to lessors that the bankruptcy reorganisation will be successful.
"Hainan said they view [the reorganisation] as a positive because it reduces their debt, and once the debt reduces then the new investor can be introduced to the airline, and with the new investor I think the banks will be willing to lend to them again," says the lessor who spoke to an HNA affiliate recently.
The person adds: "They think this is an opportunity."
Analysis by Michael Allen of Cirium.