Troubled Hainan Airlines reported a record operating loss for the year ended 31 December, as heavy impairment costs and a steep decline in revenue punished its earnings.
The carrier was CNY71.6 billion ($11 billion) in the red for the year, reversing the modest CNY798 million operating profit it reported in 2019.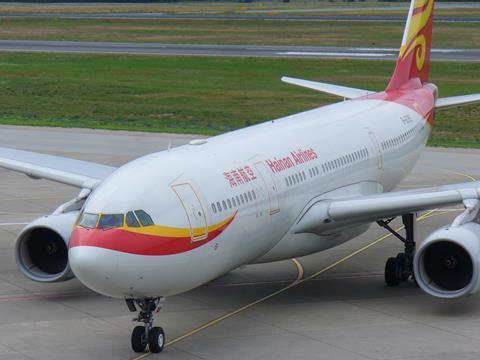 Hainan, whose parent HNA Group is in the middle of a creditor-led bankruptcy reorganisation, saw its full-year revenue plunge nearly 60% year on year to CNY29.4 billion, due largely to a collapse in travel demand from the coronavirus pandemic. Costs, meanwhile, fell just 34% year on year to CNY50.7 billion.
The carrier took on a hefty impairment charge — at nearly CNY30 billion — according to a Shanghai Stock Exchange disclosure dated 30 April. This was due to its dealings with its troubled parent and its sister companies.
Hainan also reported a record net loss of CNY64 billion for the year, reversing the CNY519 million net profit in 2019. The carrier had in February warned that its full-year net loss could hit CNY58-65 billion.
Hainan's auditors have also disclosed that they were "unable to express an opinion" on the financial results. PricewaterhouseCoopers Zhong Tian adds that there is also "significant uncertainties" in the success of the ongoing business reoganisation.
To this end, Hainan's board of directors states that the carrier's financial records were "accurate and true", and that they would "earnestly perform" their duties and steer the company through its business reorganisation process.
On 29 January, HNA Group disclosed that its creditors have sought to put it in bankruptcy reorganisation, after it was unable to pay off its debts.
Hainan, as well as the broader HNA Group, had been in financial strife before the coronavirus pandemic struck. In March 2020, it requested the Hainan provincial government to render it a lifeline by looking into its risk management efforts.
Hainan's full-year losses were also significantly steeper than its competitors. China's three largest carriers — Air China, China Eastern Airlines and China Southern Airlines — reported operating losses of between CNY11.2 and 14.4 billion for the full year.