A subsidiary of Chinese conglomerate Fosun International is setting up a company with the purpose of investing in airlines.
Shanghai Yuyuan Tourist Mart Group says in a 20 May filing to the Shanghai Stock Exchange that it proposes to set up a company called Yuyuan Aviation Industry Partnership, cooperating with "related parties" of Shanghai Yuyuan and "strategic investors" in the aviation industry.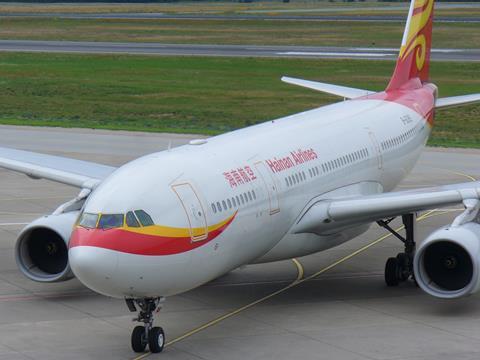 The partners in the venture will make a combined capital contribution of no more than CNY40 billion ($6.2 billion). Shanghai Yuyuan's capital contribution will not exceed CNY10 billion, while contribution from partners will be capped at CNY30 billion.
In addition, the office of the president of Shanghai Yuyuan has agreed to pay a CNY500 million deposit for participating in the proposed investment.
The joint investment and establishment of a partnership enterprise still needs to be approved by Shanghai Yuyuan's board of directors and shareholders, and the partnership is still at the preparation stage.
"Related parties and strategic investors are still drafting a cooperation agreement, the establishment of a partnership enterprise is uncertain," Shanghai Yuyuan says.
Shanghai Yuyuan Tourist Mart Group is 68.6% owned by Shanghai Fosun High Technology (Group), according to a shareholding structure diagramme in the former's 2020 annual report. Shanghai Fosun High Technology is 100% owned by Fosun International.
Shanghai Yuyuan says in the 20 May filing: "The purpose of establishing a partnership is to plan to invest in aviation entities abroad," adding that it is "currently unable to disclose specific information".
It goes on to say that it "fully grasps the development opportunities" of the Hainan Free Trade Zone, and "actively seeks breakthroughs in investment" in the aviation business.
In a 20 May report, Chinese financial publication Caixin cites a source close to Fosun as saying this new venture aims to bid for HNA Group's airline assets. Cirium has not independently verified that report.
In March, HNA Group said it was seeking strategic investors for its main domestic and foreign aviation businesses, including its airlines. The group is based in Hainan's capital, Haikou.
In separate events, Shanghai-based Juneyao Air said in a 30 April filing to the Shanghai stock exchange that the company and its co-investors will invest up to CNY30 billion to establish an enterprise that invests in aviation entities.