Delta Air Lines will continue to block middle seats in its economy class through the first quarter of next year, the only major carrier in North America to do so.
The Atlanta-based airline says on 18 November that it will extend the policy until 30 March in order to inspire confidence for potential travellers as it allows them to maintain distance to their fellow passengers as the coronavirus crisis drags on.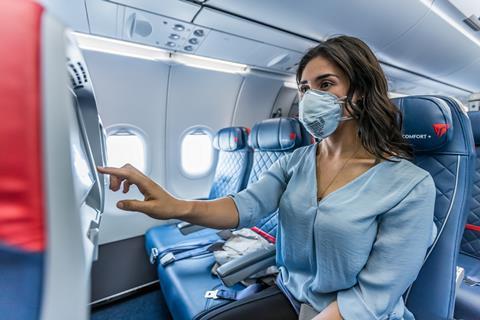 It continues the practice after its US peers like Southwest Airlines, Spirit Airlines, JetBlue Airways, United Airlines and American Airlines discontinued their policies.
"We recognize some customers are still learning to live with this virus and desire extra space for their peace of mind," says Delta's chief customer officer Bill Lentsch.
When the global pandemic began earlier this year, most airlines blocked middle seats, giving customers more personal space for social distancing. Airlines hoped that keeping passengers separated would encourage them to return to the air sooner.
But as time passed and financial pressures on airlines mounted, many carriers began opening up the seats for booking. In addition, several scientific studies showed that the chance of catching the highly-communicable virus on board an aircraft was exceedingly low.
JetBlue last week said that it would open all seats for booking starting on 8 January. Southwest will begin selling all seats on 1 December.