Ultra-low-cost carrier (ULCC) Frontier Airlines reports a $40 million profit in the fourth quarter of 2022 as it continues to see strong demand for leisure travel.
For comparison, the Denver-based discount carrier lost $53 million during the last three months of 2021.
Frontier posted $906 million in revenue during the fourth quarter of 2022, it disclosed on 8 February. The business generated $609 million during the same three months of 2021.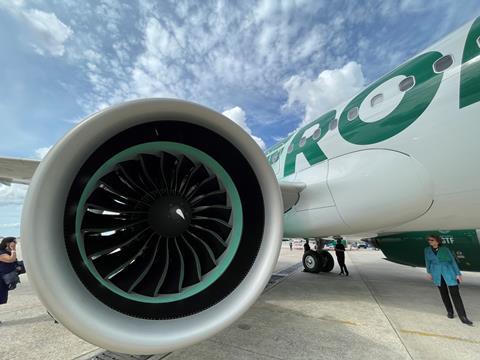 Chief executive Barry Biffle repeated his refrain that the airline maintains a cost advantage over its competitors during Frontier's fourth-quarter earnings call.
"We expect to maintain this advantage for years to come," he says. "Put simply, our strong ancillary performance and industry-leading unit costs are the variables that make it possible for us to capitalise on the strong leisure market and stimulate profitable growth for the rest of the decade."
The carrier's expenses totalled $861 million during the final quarter of 2022, up from $695 million the previous year.
The airline says its bottom line was boosted by ancillary revenue, or non-ticket sales. Frontier's total ancillary revenue per passenger was $82 in the fourth quarter, up from $63 during the same quarter in 2021.
For the full year, Frontier's 2022 loss narrowed to $37 million, compared with a $102 million loss in 2021. Additionally, the carrier generated $3.3 billion in yearly revenue, up from $2 billion in 2021.
In September 2022, Biffle told FlightGlobal that a pending tie-up between JetBlue Airways and Spirit Airlines would give his company a major cost advantage over its competitors.
"We're in a situation where… 95% of the capacity in the United States is going to have [a cost that is] a third or higher than ours," Biffle said.
The airline is also undertaking a major fleet renewal. At the end of 2022, Frontier had a fleet of 120 single-aisle Airbus A320s and A321s financed on operating leases that expire this year and the next that must be replaced.
Frontier has commitments for 231 aircraft deliveries through 2029, including purchase commitments for 67 A320neos and 154 A321neos and direct leases for another 10 A321neos.
"Our first A321neo arrived about a month ago," Biffle says. "It's an incredible aircraft with a livery reflecting the new Pratt & Whitney Geared Turbofan technology, which is helping us to deliver a stunning 120 ASMs [available seat miles] per gallon, along with significantly lower carbon emissions and engine noise."
Frontier is expecting the delivery of 36 A321s in 2023. It had anticipated more deliveries this year before Airbus informed the airline in December that it was pushing back deliveries of nine jets by one to five months, Frontier says.
As a result, nine A321s will be delivered in 2024 rather than this year, "reducing available capacity growth in 2023 by approximately 5%", Frontier says.
The ULCC plans to open a new crew base at Dallas-Forth Worth International airport in May 2023 and launch five new routes from the Texas hub.